Paris Seine Near 60-Year High Adds to Strike Disruption
by
Floods, strikes disrupt French daily life as Euro 2016 nears

Soccer tournament starting in week to draw 2.5 million people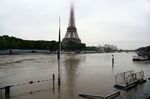 Paris's Seine River is set to rise to the highest level in more than 60 years, adding to unusual levels of disruption from both strikes and disastrous flooding with a week to go before the start of Europe's biggest sporting event, the Euro 2016 soccer championship.
Rivers have burst their banks and forced the evacuation of thousands south of Paris after record rain and authorities now predict the Seine may climb to its highest since 1955 in the capital itself. The Louvre museum has shut as a result of flooding concern and some suburban trains have been halted. Meanwhile, strikes are disrupting services from garbage collection to train travel and electricity supply elsewhere in France.
With images of inundated towns and flooded homes flashing across television screens, the swelling waters have been a distraction for a government dealing with a maximum-level terror threat and crippling labor protests ahead of Euro 2016. The month-long soccer competition starts June 10 and is expected to draw 2.5 million fans to France.
About 20,000 homes across the country were without electricity Friday morning because of the floods, I-Tele reported, citing power distribution group Enedis. Near the port city of Saint-Nazaire in western France, 125,000 homes were temporarily without power on Thursday after protesting workers disconnected power lines.
In the Paris region, the RER C suburban line was shut down because of flood risk and strikes, according to railway operator SNCF. Transport minister Alain Vidalies said in an interview with RTL radio that concerns of SNCF employees have been addressed and there is no reason for workers to continue their protest, as railway strikes continued for a third day.

While water levels are starting to fall upstream of the capital, retreat of the flood waters will be slow, and victims may be discovered, Environment & Energy Minister Segolene Royal said on broadcaster France 2. On Thursday, a horseman died after being carried away by flood waters of the Yerres river southeast of Paris, while a woman was found dead in her submerged home on Wednesday, according to Agence France-Presse. In neighboring Germany, incessant rains have left at least eight dead.
About 3,000 people will be evacuated as a preventive measure in the Indre-et-Loire region southwest of Paris, France Info reported.
The Seine River in Paris was 6 meters above its benchmark as of 1 p.m. and may
crest at 6.5 meters (21 feet) later today, according to the environment ministry. That
would surpass the 1982 peak of 6.16 meters and bring the river to its highest
level since 1955. Even at that height, the water would still be about 2 meters below the 1910 level that flooded large parts of the French capital. More rain is forecast in central France through Tuesday, according to Meteo-France.
The Louvre and the Orsay museums, on opposite banks of the Seine River, closed on Friday in relation to flood risk. At the Louvre, the world's most-visited museum with 9.3 million entries in 2014, employees will be moving artwork from flood-prone areas to higher floors, and the museum said it's unclear when it will reopen.
The rains and the flooding disrupted travel in sections of the country this week, with train traffic hit between the cities of Metz and Luxembourg, in the east, as well as between Paris and Meudon, south of the capital, a spokeswoman for the national railway SNCF said on Thursday. The A10 highway southwest of Paris, and over 20 roads north of the city of Orleans were affected, while minor disruptions occurred on highways A71 and A85, operator Vinci said in a statement.
The flooding has been an extra headache for French authorities dealing with ongoing political and labor protest, as well as a continuing state of maximum alert following last year's terrorist attacks. About 90,000 security personal will be deployed to secure Euro 2016, according to the Interior Ministry.
Labor unrest may mean more travel disruption to come, with pilots at flag carrier Air France planning to strike June 11 through to 14 in a dispute with management. Air France Chief Executive Officer Frederic Gagey said soccer fans seeking to attend the Euro 2016 games can "take trains, drive cars" or fly other airlines to get to France.
Anyone driving to France might consider filling up before the border. Four of oil company Total's five refineries in France have been halted by labor unrest. While a run on fuel resulted in hundreds of gas stations running out of supplies, by late Thursday Total SA was reporting that only 47 of its 2,200 stations were without fuel. Total's Donges refinery may restart soon after 94 percent of workers there voted to end a strike, Total spokesman Paul Naveau said Friday in a phone interview.
Worker protests have also blocked three of Paris's four main waste treatment centers, and garbage collection in the capital has slowed down, Le Monde reported.
Before it's here, it's on the Bloomberg Terminal.
LEARN MORE