Fed's Evans Sees Case for Holding Rates Until Inflation Hits 2%
by
Chicago Fed chief also sees case for two 2016 rate increases

More than two could cause financial-market turmoil, he says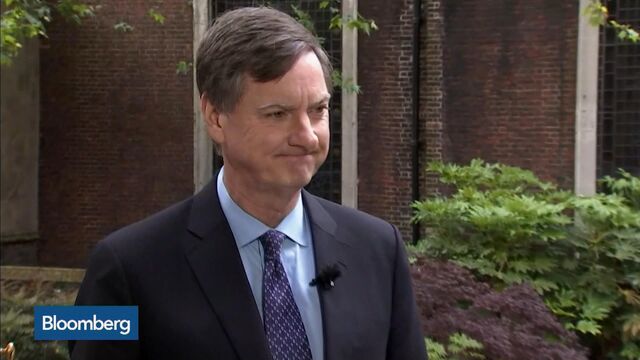 The Federal Reserve should consider holding off on additional interest-rate increases until inflation rises to the U.S. central bank's target, said Federal Reserve Bank of Chicago President Charles Evans.
"In order to ensure confidence that the U.S. will get to 2 percent inflation, it may be best to hold off raising interest rates until core inflation is actually at 2 percent," Evans said in remarks prepared for a speech Friday in London. "The downside inflation risks seem big -- losing credibility on the downside would make it all that more difficult to ever reach our inflation target. The upside risks on inflation seem smaller."
Evans, an influential participant on the rate-setting Federal Open Market Committee who doesn't vote this year on policy, laid out a couple possible cases that will be debated at the panel's June 14-15 meeting. He said that while "it may be appropriate" to increase the Fed's benchmark rate twice this year, "any move toward more aggressive tightening" than that could bring back financial-market turmoil that hit the U.S. economy in the first three months of 2016.
"I still judge that risk-management arguments continue to favor providing more accommodation than usual to deliver an extra boost to aggregate demand," he said. "Such a boost would provide a buffer against possible future downside shocks that might otherwise drive us back to the effective lower bound."
The Chicago Fed chief said he doesn't expect any additional improvement in core inflation, a measure that strips out volatile food and energy prices, in 2016. The Fed's preferred gauge, based on the prices of personal consumption expenditures, was 1.6 percent in April, up from 1.4 percent at the end of last year.

Evans laid out numerous downside risks to the outlook for prices, including uncertainty over whether the recent pickup in price pressures would last, the possibility that the outlook for overseas economies worsens further, and depressed measures of inflation expectations derived from consumer surveys and bond prices.
Evans's prescriptions have been embraced by his fellow policy makers in the past. Most notably, the Fed adopted the "Evans rule" in 2012 when it said it would not raise rates before the unemployment rate fell below 6.5 percent. The plan augmented a powerful new tool to influence longer-term interest rates known as forward guidance, a practice that has become widespread among major central banks struggling to revive ailing economies in recent years.
Despite his relatively downbeat message on inflation, Evans conveyed optimism that the U.S. economy would continue to grow at a healthy clip this year and next, between 2 percent and 2.5 percent at an annual rate.
"This pace is modestly stronger than my assessment of the underlying growth trend and should therefore support continued reduction in labor market slack," he said, while cautioning that risks to his forecast are tilted to the downside and adding that he is "not completely confident that we have met our employment objective just yet."
Before it's here, it's on the Bloomberg Terminal.
LEARN MORE