Fed's Evans Says U.K. Brexit Vote Is Clouding Global Outlook
by and
U.S. economy is improving, inflation pickup could be slow

Evans says June 23 EU referendum is a 'very big unknown'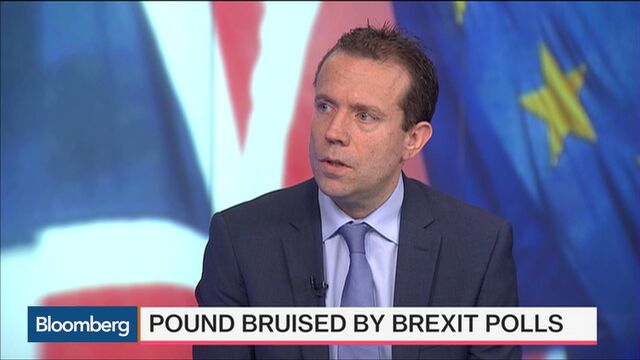 Federal Reserve Bank of Chicago President Charles Evans said the U.K.'s referendum this month on European Union membership is undermining confidence in the outlook at a time when the international economy is already losing momentum.
"This is adding a lot of uncertainty to the global economic environment, and there's already a lot of uncertainty with global slowing around the world," Evans said in an interview with Anna Edwards on Bloomberg Television on Friday. "This is just a very big unknown."
The Bank of England has said that uncertainty surrounding the vote is damping U.K. growth, while international institutions including the International Monetary Fund and the Organisation for Economic Cooperation and Development are warning of a dire fallout if Britain votes to quit the EU on June 23. While Leave campaigners have accused the Remain camp of scaremongering, Markit Economics said Friday the referendum has had a "detrimental impact" that will contribute to a slowdown this quarter.
Asked about the warnings, including BOE Governor Mark Carney's comments that a Brexit could trigger a U.K. recession, Evans said he can "understand some of those comments that you've alluded to."
Difficult Decisions
"It's not my country, it's not my economy, so I'm listening to everyone's opinions on this," he said. "It certainly does suggest that there's so much uncertainty it would be difficult for anybody to take a substantial investment decision ahead of that vote."
Evans, who doesn't vote on policy this year, was speaking after delivering a speech in London, when he said two Fed rate increases this year may be appropriate, though nothing more aggressive than that. He echoed those comments in the Bloomberg interview.
"Economic conditions have improved, my outlook looks like it's coming around pretty nicely," he said. But the pickup in inflation will be slow, so there may be a case for officials to consider if they want to push it up faster and "solidify firmer inflation expectations."
Evans said the timing of the next Fed rate increase isn't the most important issue, and June, July or September could work: "You can't know until you get to the meeting," he said, indicating Brexit will feed into the thinking.
"The U.S. has a pretty strong economy right now, and the question is sort of, 'are the conditions right where we could take another step in terms of tightening?"' he said. "I think we'd like to have a resolution of as much uncertainty as possible, and so the Brexit vote does get in the way of that."
Before it's here, it's on the Bloomberg Terminal.
LEARN MORE