Dollar Rebound in Tatters as Jobs Slowdown Swamps Fed Rate Plans
by and
After paring 2016 loss, greenback tumbles most since December

Resulting strength in euro, yen are challenge for ECB, BOJ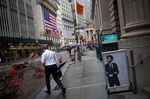 Foreign-exchange strategists say the rebound in the dollar is history.
The greenback dropped the most in six months versus the euro after a report showing the weakest U.S. jobs growth since 2010 scuppered speculation the Federal Reserve will raise interest rates as soon as this month. The dollar's tumble was the biggest post-payrolls move in at least a year, according to data compiled by Bloomberg.

"Soft nonfarm payrolls have destroyed three weeks worth of dollar gains," said Petr Krpata, a foreign-exchange strategist at ING Bank NV in London. "We have seen a massive selloff across the board," and there aren't many catalysts for a rebound, he said.
The setback is signaling to strategists and traders that May's gains were just a respite from a bearish trend in the dollar that's taken hold since the new year. Continued strength in the euro and yen will be unwelcome news for the European Central Bank and and Bank of Japan, where policy makers are seeking to rekindle economic growth and inflation that would be aided by weaker currencies.
"The euro and the yen share very similar factors,"  Krpata said. "Their respective central banks have, by and large, run out the toolkit to weaken the currency."
The dollar dropped 1.9 percent to $1.1367 per euro as of 5 p.m. New York time, the biggest decline since Dec. 3. It lost 2.2 percent to 106.53 yen. The Bloomberg Dollar Spot Index, which tracks the currency against 10 major peers, fell 1.5 percent and posted its first weekly decline since April.
On Sale
"The dollar's a sell," against the euro and yen, said Lee Ferridge, the Boston-based head of macro strategy for North America at State Street Global Markets. "It's a dreadful number, there's no silver lining here. The number is so poor we have to worry about U.S. growth."
The jobs data may have wrong-footed hedge funds and other money managers, who recently turned net bullish on the dollar versus eight major peers. Bets that the currency will strengthen outnumbered bearish positions by 84,149 contracts as of May 31, marking a second week of net bullish positions, according to the Commodity Futures Trading Commission.
U.S. employers throttled back hiring in May. Payrolls rose by 38,000 after a downwardly revised 123,000 in April, raising questions about the ability of consumers to keep spending at a good clip.
Fed Governor Lael Brainard said the report was "sobering" as she continued to warn against moving too quickly to increase rates. There's a 4 percent chance the U.S. central bank will raise rates at its June meeting, down from 22 percent on June 2, based on fed fund futures compiled by Bloomberg. The odds for a July move fell to 27 percent from 55 percent.
"A Fed on hold takes away support from the dollar," said Jonathan Lewis, chief investment officer of Fiera Capital Corp.'s U.S. unit. The weak jobs report means "the case for a Fed tightening in June has dropped precipitously," he said.
Before it's here, it's on the Bloomberg Terminal.
LEARN MORE