China Stocks Cap Weekly Advance as Yuan Weakness Tames Gains
Bloomberg News
Consumer-staples shares climb Friday as energy producers drop

Shanghai Composite halts 6-week slide as HSCEI extends rise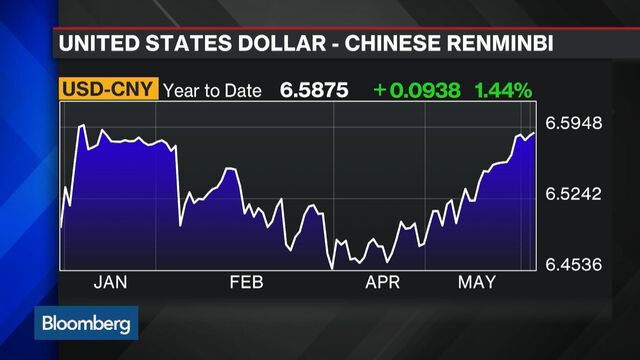 Chinese stocks posted their first weekly gain in almost two months as speculation MSCI Inc. will include yuan-denominated shares in its global indexes was tempered by concern over the slowing economy and falling yuan.
The Shanghai Composite Index rose 0.5 percent at the close, taking its weekly gain to 4.2 percent. A rally on Tuesday spurred by Goldman Sachs Group Inc. comments that MSCI inclusion was likely to be announced this month has fizzled out as the yuan neared a five-year low. Leshi Internet Information & Technology Corp. was among the most active stocks as trading resumed for the first time in 2016 after regulators approved its private-placement plan.
Manufacturing data for May released Wednesday failed to ease concern about the outlook for the world's second-largest economy, after April figures trailed estimates. There's a growing risk that capital outflows from China may accelerate as the yuan weakens, spilling over into global markets and causing a broad selloff similar to those in January and August, Goldman Sachs Group Inc. said Thursday.
"There is still skepticism about whether the rally can continue as we haven't seen a change of fundamentals either from the macro economy or earnings," said Wei Wei, an analyst at Huaxi Securities Co. in Shanghai. "Investors are on the sidelines. The impact of a weaker yuan could be fairly limited as stocks are already at a pretty low level."
The Shanghai Composite, which has lost 17 percent this year, closed at 2,938.68. The Hang Seng China Enterprises Index advanced 0.6 percent in Hong Kong, extending its gain for the week to 2.5 percent. The Hang Seng Index rose for the eighth time in nine days, increasing 0.4 percent as Link REIT and Lenovo Group Ltd. climbed.
A gauge of consumer-staples shares on the CSI 300 Index climbed 3.2 percent to its highest level this year, while the measure of energy stocks fell 0.1 percent. Liquor maker Kweichow Moutai Co. jumped 6 percent to a record high and Jiangsu Yanghe Brewery Joint-Stock Co. added 4.4 percent while coal producer Shanxi Lu'an Environmental Energy Development Co. lost 1.1 percent.
Capital Outflows
The yuan weakened less than 0.1 percent against the dollar Friday and was poised for a fifth weekly decline, the longest streak since December, amid mounting expectations the Federal Reserve will raise interest rates by July.
China's strategy of keeping the yuan steady against a basket of currencies while downplaying the significance of the exchange rate versus the dollar may not succeed in stemming capital outflows because it's the exchange rate against the greenback that households and companies are most sensitive to, Goldman Sachs strategists said.
Leshi Internet, which has the second-biggest weighting on the ChiNext index of smaller companies, slid 4.2 percent, trimming a loss of as much as 10 percent. Trading resumed Friday following a six-month suspension, after the company received regulatory approval to sell new shares in a private placement to buy assets.
The odds of Chinese stocks winning MSCI inclusion have increased to 70 percent from 50 percent a month earlier as the authorities published rules curbing trading halts and issued a clarification about beneficial ownership rules, Goldman Sachs said Tuesday. With an estimated $16 billion of investment flows at stake, Chinese regulators are pushing for the nation's shares to be added to MSCI's global benchmarks.
China's manufacturing purchasing managers index stood at 50.1 in May, just above the threshold that separates expansion from contraction, the nation's statistics authority said this week, while it warned about upcoming challenges for manufacturers as a gauge of new orders fell for a second month.
Consumer staples extended this week's gains to 7.2 percent, the best-performing sub-index this week as Kweichow Moutai added 12 percent since last Friday and Luzhou Laojiao Co. climbed 9.4 percent. A group of technology shares increased 5.8 percent, the second-best advance on the CSI 300 Index this week.
— With assistance by Shidong Zhang
Before it's here, it's on the Bloomberg Terminal.
LEARN MORE