U.S. Yield at 16-Year High Versus U.K. Before Jobs, Brexit Vote
by
Economy added 160,000 jobs in May, same as April, survey shows

Treasuries return 3.2% this year, versus 6.8% for U.K. gilts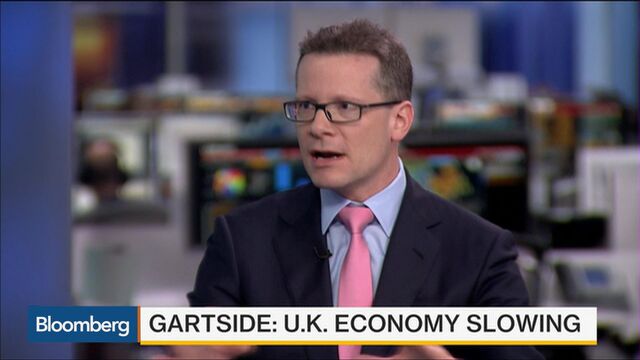 The extra yield Treasuries pay over U.K. gilts is surging before a U.S. payrolls report Friday, while investors seek safety in British government bonds as the nation prepares to vote on leaving the European Union.
U.S. two-year notes yielded 51 basis points more than same-maturity government debt in the U.K., the biggest difference in 16 years. The 10-year spread was 46 basis points, approaching the widest level in a decade. Benchmark Treasuries were little changed Friday in Asian trading.
The widening premium underscores the difference in how investors view the two economies. In a speech on Friday, George Osborne, the U.K. chancellor of the exchequer, will warn 400,000 jobs may be lost if the country leaves the EU, helping drive demand for the safety of the nation's sovereign debt. Fed Chair Janet Yellen said last week improvement in the U.S. economy would warrant raising rates in the coming months. Her comments had boosted short-term U.S. yields, those that are the most sensitive to what the central bank does with its benchmark.

"The two-year spread is driven by the expectation that the Fed is going to hike rates soon," said Yusuke Ito, the senior investor in Tokyo at Mizuho Asset Management, which oversees about $46 billion. "If the people of the U.K. say they want to leave the EU, it could be negative for the economy. The Bank of England will be forced to be more accommodative."
U.S. 10-year notes yielded 1.81 percent as of 6:52 a.m. in London, according to Bloomberg Bond Trader data. The price of the 1.625 percent security due in May 2026 was 98 11/32. Two-year notes yielded 0.89 percent.
For more on the Brexit vote and the outlook for Fed policy, click here.
"A lot of people think that with the Fed possibly going in June, you may see 2 percent" for the 10-year yield, said Roger Bridges, the chief global strategist for interest rates and currencies at Nikko Asset Management Co.'s Australian unit, which oversees $13.7 billion.
The U.S. spread to the U.K. may keep growing if the movement to leave the EU gains support, Bridges said. The Brexit vote is June 23.
U.S. payrolls increased by 160,000 for the second straight month in May, according to the median estimate in a Bloomberg survey of economists before the Labor Department report. Average hourly earnings rose 2.5 percent from the year before, also matching April's pace, the survey showed. Friday's data will also include factory orders and orders for durable goods.
Treasuries have returned 3.2 percent in 2016, versus 6.8 percent for U.K. government securities, based on the Bloomberg World Bond Indexes.
Before it's here, it's on the Bloomberg Terminal.
LEARN MORE