Luxury Travel
These Are This Summer's Most Exciting New Beach Hotels
These 11 resorts have three things in common: jaw-dropping design, pristine shorelines, and endless entertainment for summer days.
By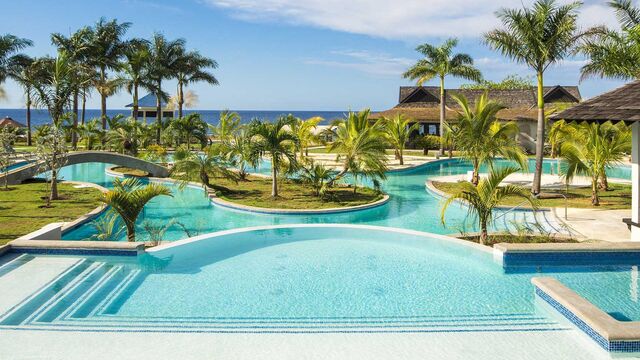 Nobody ever said you had to love the beach in order to enjoy a great beach resort. At these 11 newcomers—all within a few hours of most U.S. cities—there's far more to do than lie in a cabana with a margarita. (But we won't blame you if that's what the doctor orders.) This year, you can golf in the Dominican Republic from the comforts of an Aman resort, sleep in a villa in what's been dubbed the "Billionaire's Playground," and even take cooking classes at a food-focused hotel in the Cayman Islands. Whether you're in search of sand, sun, or both, it's time to get planning.
The Cliff
Negril, Jamaica

For that kick-off-your-shoes, let-it-all-hang-out vibe, there's nowhere better than Negril. And the new place to stay, hands-down, is the Cliff, a takeover and total redo of the old Moon Dance Resort. Its 22 suites are some of the most spacious in all Jamaica, with floor-to-ceiling windows that frame the Caribbean Sea. Spend days at the natural saltwater pool or kicking back Red Stripes at one of three bars—just make it back to the hammock on your private terrace in time for those glorious Jamaican sunsets. From $260.
Amanera
Playa Grande, Dominican Republic

The Dominican Republic has just earned its own Aman resort in the form of the gleaming new Amanera, on a secluded beach that's an hour's drive from Santiago International Airport. Here clifftop casitas are dressed up in Aman's signature brand of sleek, tatami-inspired décor, with private plunge pools and unobstructed views of the ocean. From $1,216.
Zemi Beach House
Anguilla

Carved wooden headboards and gauzy white linens. Pearlescent beaches that seem to stretch for miles. A spa in a perfectly reconstructed, 300-year-old Thai house. Anguilla has no shortage of luxury hotels (hello, Malliouhana!) but this newcomer can compete with the best of them—without breaking the bank. From $350.
Le Soleil d'Or
Cayman Islands

Culinary enthusiasts have traditionally had little to rave about in the Caribbean. This intimate property on Cayman Brac is hoping to change that. It started out as a few exclusive-use villas connected by a farm and pool and has now expanded with big ambitions to become a tropical farm-to-table oasis. Now it has a four-room inn, a culinary school, and two new restaurants that make nearly exclusive use of the bounty grown on site—though you can also get private chef service in one of two newly renovated villas. From $850.
The Ranch Laguna Beach
Laguna Beach, Calif.

You know owner Mark Christy as the owner of Hobie, the ubiquitous maker of sailboats and surfboards. Now the Laguna Beach, Calif., native is adding a feather to his cap with the opening of his first hotel, the Ranch Laguna Beach. It's the first addition to the local hotel scene in over a decade, set on 83 acres of canyons and coast. Inside, the vibe is more upscale cottage than surfer cool, with batten wood-clad walls, distressed leather chairs, and rope-suspended, wrought-iron lanterns. Bonus: There's extensive programming for all ages, including a Ranger Station kids' camp, yoga, archery, whale watching, and plein air painting classes. From $479.
Oil Nut Bay
Virgin Gorda, British Virgin Islands

It's only accessible by helicopter, but this exclusive gem in the British Virgin Islands is worth the journey. It's part of the "Billionaire's Playground," a nicknamed chain of islets that are mostly private-owned (by the likes of Richard Branson and Larry Page). Here, 88 villas, some forming a resort and others available for ownership, are spread on a parcel of 300 pristine acres; guests have access to such activities as deep-sea fishing, snorkeling, sailing, and pickleball—an increasingly popular spin on tennis. From $750.
Faena Miami Beach
Miami

There isn't always substance behind the glitz and glam of Miami Beach, but that's not the case at Faena, a new hotel and cultural complex by the namesake Argentine developer. It's home to some of the most whimsical décor this side of the Atlantic, including sumptuous custom fabrics on nearly every surface, a mural-covered space that's literally called "the Cathedral," and "Gone But Not Forgotten," a gilded wooly mammoth by Damien Hirst that guards the pool deck. The food cred doesn't hurt, either—after a months-long pop up of Chicago's Alinea, the first floor now contains the country's first restaurant by South American grill master Francis Mallman; upstairs, there's a spot by Austin darling Paul Qui. From $381.
The Asbury
Asbury Park, N.J.

Luxury on the Jersey Shore? In a former Salvation Army building, no less? Believe it. Thanks to a multibillion-dollar renovation, Asbury Park has its first upscale hotel, making the long-forgotten destination a viable alternative to weekends out East. Among the retro-inspired draws: a rooftop movie theater meant to resemble an old-school drive-in, a rec room with pinball machines, and direct access to the completely reimagined boardwalk, whose summer musical lineup includes such names as the Lumineers and the Violent Femmes. From $95.
Four Seasons Lanai
Lanai, Hawaii

This iconic resort, known as the spot where Derek Jeter golfs and Bill Gates proposed, has been given a stem-to-stern overhaul by its new owner, tech billionaire Larry Ellison. Now rooms all face the ocean for postcard-worthy views, and the dated interiors have been swapped for a kitsch-free Hawaiian aesthetic. (Think thatched wallpaper, sculptural rattan chairs, and bamboo-clad bathrooms.) If it meets Ellison's exacting standards—and after a $450 million investment, it does—it'll certainly meet yours. From $1,075.
Tcherassi Hotel + Spa
Cartagena, Colombia

She put Cartagena on the map as the ultimate stylish escape when she opened her first hotel in a historic house back in 2009, and now fashion maven Silvia Tscherassi is at it again. Her follow-up effort will have 42 impeccably designed rooms when it opens in the historic city center later this summer; it'll take the Tcherassi Hotel + Spa name while the original will be renamed Mansión Tcherassi. Expect whitewashed interiors with tons of textural interest. (The design plans are filled with Moroccan wedding blankets, exposed beams, and chalk-colored stone walls.) Price unavailable at press time.
French Coco
Martinique

Martinique shares many things with the French mainland—its language and currency, for starters, along with a love for fashion and food. The one thing it lacks that its mother country has in spades? Luxury accommodations. Enter French Coco, a Small Luxury Hotel opening at the end of June and the first five-star resort to open its doors on this pretty little island in a very long time. This is island life done right: private pools, a seaside cigar room, and French food made from ingredients grown on site are all part of the equation. From $675.
Before it's here, it's on the Bloomberg Terminal.
LEARN MORE