United Courts NYC Bankers With Pod-Style Plane Suites, Lounges
by
Airline playing catch-up with U.S., international rivals

CEO Munoz wants to attract New York investment community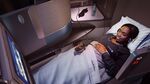 Playing catch-up to U.S. and global rivals, United Airlines is betting that international business-class upgrades will win over big-spending travelers.
The airline on Thursday unveiled suite-like pods and luxury bedding meant to entice business passengers on flights from Newark, London, Tokyo and other major destinations. A major target: customers in New York, where Chief Executive Officer Oscar Munoz announced the new offerings at swanky Gotham Hall.

Munoz is trying to attract more business fliers to help close United Continental Holdings Inc.'s profit gap with Delta Air Lines Inc. and American Airlines Group Inc. Like other carriers, United is phasing out first-class international cabins after finding that many of their seats went to people getting upgrades rather than to paying customers.
"How do we make this spicy and enticing?" Munoz said in an interview Tuesday about the new offerings. "We haven't announced anything of this magnitude for probably a decade."
Two Classes
United is shifting to a two-class arrangement with an upgraded business section. The new cabin, named Polaris, features lie-flat seats, each with direct access to the aisle. The Polaris brand also will be on nine airport lounges around the world, each with a boutique restaurant.
While all the major U.S. airlines have installed seating that reclines 180 degrees in the business cabin in recent years, United has lagged in giving every seat access to the aisle. That can be awkward when a customer in a window seat has to wake up or crawl around someone sleeping in the next seat over.

United's new seats, from Zodiac Aerospace SA's U.K. unit, have barriers between passengers, giving each person privacy, and are staggered so that passengers can slip past a neighbor without notice. The airline is able to give passengers more room -- as much as 6-feet, 6-inches of bed space -- while keeping the same number of seats, Munoz said.
Zodiac has had trouble keeping up with some airline orders in recent years, prompting American to stop using the French company for lie-flat seats on its Boeing 787-9 Dreamliners and some 777-200s last year. American has retained the seatmaker for business-class suites on some of its other wide-body aircraft.
Rivals' Footsteps
United is following in the footsteps of its U.S. and foreign rivals, adding many of the touches found in their business cabins and airport lounges without breaking much new ground, said Henry Harteveldt, founder of consulting firm Atmosphere Research Group.
The carrier actually pioneered true lie-flat seats in the U.S. market years ago, but until now United's seats lacked direct access to the aisle and were narrower and had less storage space than those of competitors.
"United is going to play catch-up, but I didn't see anything in what they announced saying United has cracked the nut and has a truly innovative product here," he said.
Some foreign airlines also have offered spa services and restaurants in their airport lounges, just as United is adding now, Harteveldt said. One nice touch, he said, is committing to carrying wines rated 90 and above by major wine publications.
Manhattan Customers


While United has a stronghold in China, it is less dominant in the competitive trans-Atlantic market, particularly among the New York investment community, Munoz said. That's one of the reasons why the Chicago-based carrier decided to unveil the upgrades in Manhattan.
"I think this is one place where this is going to make a difference," Munoz said.
The Polaris service will begin in December on United's new Boeing Co. 777-300ER jets, followed by 787-10 and Airbus Group SE A350-1000 jets and on retrofitted 767-300 and 777-200 aircraft.
United also is extending Polaris -- another name for the North Star -- to key airports in Chicago; Los Angeles; San Francisco; Houston; Newark, New Jersey; Washington Dulles; Hong Kong; Tokyo Narita; and London Heathrow.
Before it's here, it's on the Bloomberg Terminal.
LEARN MORE