U.K. Economy Would be Biggest Brexit Loser, Euro-Area Chief Says
By
Dutch finance minister echoes remarks made by David Cameron

No 'Plan B' if U.K. leaves EU, Dijsselbloem tells industry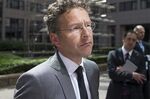 The danger to the British economy if the U.K. leaves the European Union is much more acute than what the euro area faces, Dutch Finance Minister Jeroen Dijsselbloem said.
"The risks for the U.K. itself are much, much greater than for Europe or the euro zone," Dijsselbloem, who leads the group of his euro-area counterparts, told an audience of business leaders in Brussels.
His remarks came as U.K. Prime Minister David Cameron and Chancellor of the Exchequer George Osborne are seeking to shift the pre-referendum debate away from migration and on to the economic dangers of a so-called Brexit. The pound dropped earlier this week as successive polls ahead of the June 23 vote showed a swing in favor of "Leave," suggesting the campaign's concentration on immigration may be hitting home with voters.
Dijsselbloem said that although the economic risks shouldn't be ignored, the "Remain" camp needs to respond to people's concerns about issues such as migration, too.
"The debate is taking place at two levels at the moment. One is very rational: economic arguments, what the impact will be, etc., and one is not so rational, is much more about the sense that people have, of security, having influence in changes to their lives," he said. "The politicians shouldn't make the mistake to just talk about the rational approach."
The "Remain" campaign's economic argument has been buttressed by reports from institutions including the Treasury, the Bank of England and the International Monetary Fund that a Brexit would hurt the economy.
The EU doesn't have a contingency plan should Britain vote to leave the 28-nation bloc, said Dijsselbloem, who headed the euro area's negotiations with Greece when the debt-riddled nation came close to falling out of the single currency last year.
"The concept of a plan B sounds like there is a plan, someone stapled it together and this is what we'll do on June 24; as far as I know there is no such plan," Dijsselbloem said. "I'm sure people have ambitions and ideas of how Europe should be strengthened and developed further, but they have been around for some time."