Two Weeks Into Presidency, Taiwan Leader Pushes Away From China
by
Tsai's approach to China ties becomes clear with several steps

Beijing may tighten screws on island in 'One-China' pursuit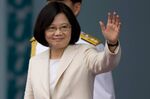 Two weeks into the job, Taiwan's new president is bringing clarity to her policy toward China, and the result may be more turbulent times with leaders in Beijing.
Tsai Ing-wen, chairwoman of the pro-independence Democratic Progressive Party, is making good on promises made during her May 20 inauguration speech to seek closer ties with countries other than China and wean the island of economic dependence on its neighbor. Other symbolic steps also suggest she is reversing her predecessor's pro-Beijing push.
Tsai's initial policies may only spur further disquiet in Beijing, where leaders had pressed her to affirm the "One-China" principle that says the two are part of one country, and raise the possibility that Beijing may respond with measures to weaken the island's already faltering economy. China's Taiwan Affairs Office had compared her inauguration speech to an "incomplete answer sheet."
"Tsai has made clear policy choices in her first few days in office, distinguishing Taiwan from China on nearly every front -- political, economic, cultural and foreign relations," said Chang Ling-chen, a professor of political science at National Taiwan University. "The incomplete answer sheet won't get completed. Now the only question is how long the mainland will wait before taking action?"
Turning to Japan
On her first full day in office on May 23, Tsai created a mechanism with Japan to settle maritime disputes, signaling possible warmer ties with Japan, which also has territorial disputes with China. Her cabinet said it would work directly with Japan to resolve differences over fishing rights in waters near the Japanese reef of Okinotori, rather than taking a "legal approach."
Also on May 23, Premier Lin Chuan issued an order dropping criminal charges against 126 protesters who broke into the cabinet headquarters in 2014 to demonstrate against a trade pact with Beijing. The same day, when confirming the appointment of the island's new representative to the U.S., Tsai used the title "ambassador" rather than "representative" -- terminology that will rankle China because "ambassador" connotes that Taiwan is a country, not a Chinese province as Beijing insists.
For a QuickTake explainer on Taiwan-China relations, click here.
Other moves will also irk China. The day after her inauguration, the education minister announced a plan to abolish school syllabus changes that her predecessor, Ma Ying-jeou, made in 2014 highlighting the "One China" idea and toning down language about Taiwan's self-rule. On May 24, Tsai's office canceled a tradition of remotely paying tribute to the tomb of Sun Yat-sen. The practice was also seen as honoring the "One China" idea given Sun's status as the founding father of modern China and that his tomb is on the mainland.
Xu Shiquan, a senior researcher at the Chinese Academy of Social Sciences' Institute of Taiwan Studies, said Tsai's first few days in office showed "zero sign she's going to accept" the consensus over the "One China" framework reached in 1992.
Tsai must now decide how much further she wants to push. On May 25, the director of China's Taiwan Affairs Office, said cross-strait dialogue channels -- including 23 commercial, tourism and cultural agreements -- would collapse if Taiwan doesn't commit to the 1992 Consensus.
Beyond China
Already she is looking beyond China to boost economic growth that was the weakest since 2009 last year. In her first week, she set up an office to coordinate her "New Go South" initiative, which intends to boost economic ties between the island and the countries of Southeast and South Asia. 
A TVBS public opinion poll conducted between May 23 and May 25 showed 54 percent respondents expect cross-strait relations in the second half of this year to be tenser, compared with 34 percent in June 2015. This marks the most pessimistic outlook in the history of the television channel's polling. The survey had a margin of error of 3.2 percentage points.
At the same time, Tsai also took "positive steps" in her first week to "signal good will" toward Beijing, according to Bonnie Glaser, senior adviser for Asia at the Center for Strategic and International Studies. One example is Taiwan's new health minister's speech last week at the World Health Organization's annual assembly in Geneva, which only referred to "Chinese Taipei" and did not mention Taiwan.
"It appears that Beijing is holding out for more from Taipei," Glaser said. "Tsai is not going to commit to the 1992 Consensus, so it remains to be seen if something else will satisfy the Chinese."
Flash Point
Taiwan will "continue communication and dialogue to maintain existing communication mechanisms and negotiation operations," Taiwan's Mainland Affairs Office said in response to questions about the relationship in an e-mailed reply to Bloomberg News on May 31.
The next potential flash point would be Tsai's visit in late June to Panama and Paraguay, two of the dwindling number of countries that maintain formal diplomatic relations with Taiwan. The trip will include a stopover in the U.S.
"It would still be premature for Beijing to take harsh counter-measures because she's not that provocative," said Xu. "However, the so-called cold peace would not last long and could turn into cold confrontation if this kind of status quo lingers."
Before it's here, it's on the Bloomberg Terminal.
LEARN MORE