Trudeau, Guarding Family Legacy, Woos China Amid Japan Standoff
By
Canadian leader hosts Chinese minister in bid to boost trade

PM's father paved way for West to establish ties in 1970s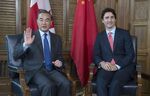 Canadian Prime Minister Justin Trudeau is pivoting to China by hosting a senior Communist Party official after a visit to rival Japan heightened regional tension.
Fresh from attending a Group of Seven summit that riled the Chinese government, Trudeau met with Foreign Minister Wang Yi in Ottawa Wednesday. It's the second such meeting with a senior Chinese official in the past month and helps set the stage for the prime minister's trip to China this fall.
Trudeau is burnishing a family legacy with the renewed diplomatic push. His father, former Prime Minister Pierre Trudeau, is revered in China after establishing ties in 1970 and was lauded by Chinese President Xi Jinping in his first meeting with the current Canadian leader. China bristled, however, at the final G-7 communique, which saw leaders including Trudeau condemn aggression in the South China Sea. 
The prime minister said he'd nonetheless work to build ties with all countries in the fast-growing region. "Canada is a country that has a tremendous history of positive engagement everywhere in the world," Trudeau told reporters in Ise-Shima, Japan. "I look forward to deepening my relationship with all of Asia, including China."

Canada-China commerce has surged over the past decade, and the two countries are said to be eyeing a free-trade deal. The Canadian government hasn't yet committed to that publicly but two officials, speaking on condition of anonymity as talks are private, wouldn't rule out completing a pact by the next election in 2019.
Father's Shadow

The elder Trudeau was enamored by China, publishing a book on the country the year he took power and establishing ties there a year before the current prime minister was born. It was a legacy cited in November when the younger Trudeau first met Xi in Turkey. "That was an extraordinary political vision," the president told him. "China will always remember that."
Trudeau's legacy remains strong in China, according to David Mulroney, a former Canadian ambassador to Beijing who now serves as president of the University of Toronto's St. Michael's College. "The Chinese have a real reverence for Pierre Trudeau because he presided over the formula that Canada adopted" that opened the door for other Western countries to establish ties, Mulroney said in a phone interview.
Yet that may not play to the current prime minister's advantage if the Chinese expect him to replicate his father's policies. "They have a way of putting the golden handcuffs on you, so you have to resist that," Mulroney said. "Managing the relationship is going to be even more difficult for Justin than it was for Pierre."
Trade Push
China is Canada's second largest trade partner after the U.S. Exports to China totaled C$21.5 billion ($16.5 billion) in 2015 and imports were C$38.9 billion. Total trade with China has more than doubled in the last decade, up 119 percent according to data compiled by Bloomberg. Trade with the European Union and the U.S., meanwhile, grew at more modest paces of 34 percent and 9 percent. 
Trudeau's meeting with Wang comes on the heels of a visit last month by Hu Chunhua, the Communist Party's secretary for Guangdong province. It also follows Trudeau's encounter with Prime Minister Shinzo Abe last week in Tokyo before the G-7 summit, in which the Japanese leader hailed Canada's shared concern over the South China Sea.
"Nothing that happened in Tokyo will be a barrier," said Gordon Houlden, a former Canadian diplomat who heads the China Institute at the University of Alberta in Edmonton. "The Chinese, looking at the communiques and the statement, will blame Japan and the U.S., in that order."
Past 'Unpredictability'
While in Japan, Trudeau criticized Canada's approach to China over the previous decade. Former Prime Minister Stephen Harper's Conservative government brought in restrictions on foreign investment after approving the sale of oil and natural gas producer Nexen Inc. to state-owned Cnooc Ltd.
Trudeau's Liberals have said Canada needs to be more consistent. "One of the challenges over the past decade of Canada's engagement with China was a lack of constancy, and unpredictability, in how the previous government engaged," the prime minister told reporters. "I've made it very clear I'm looking for a positive and constructive relationship with China where we benefit economically from further ties and speak directly to each other on issues of concern."
Gerry Ritz, a Conservative lawmaker and Harper's former agriculture minister, countered that Trudeau needs to balance expanding trade with pushing China on human rights and pursuing ties with its neighbors. The prime minister, for instance, hasn't yet taken a position on the Trans-Pacific Partnership trade deal that excludes China.
"I am very concerned that he seems to be rebuffing TPP while at the same time holding out a hand to the Chinese," Ritz said in an interview. "I don't disagree with expanding our trade with China, but you do it in the right time and place."