The Explosion in Quasi-Sovereign Bond Issuance Is Making Analysts Queasy
Sort-of sovereign bonds outstanding have outstripped emerging market government debt.
by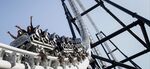 Which fixed-income asset class is growing fast, outperforms similar debt issues, and rarely defaults?
Emerging market 'quasi-sovereign' bonds, of course!
At some $600 billion, debt sold by state-supported companies in emerging markets ranging from China to Oman has surpassed the amount of emerging market government debt outstanding, according to a new note from Bank of America Merrill Lynch. Such quasi-sovereign debt issuance has helped propel the stunning growth of the overall bond market, with EM issuance accounting for 47 percent of the growth in global debt between 2007-14, compared to 22 percent in the previous seven years, according to S&P Global Ratings.
But the surge in 'quasi' bonds is making some feel, well, queasy.
"Quasi-sovereigns are effectively a 'contingent liability' for a country," write the BofAML analysts, led by Kay Hope.
They note that quasi-sovereign issuance now makes up half of the $1.6 - 1.8 trillion euro- and dollar-denominated corporate bond market for emerging markets, which could put added pressure on strained emerging market coffers.

China, with its lumbering state-owned enterprises, accounts for a full quarter of this kind of debt — despite the Chinese sovereign itself lacking virtually any foreign-denominated bonds. Meanwhile, the amount of debt from Brazilian quasi-sovereigns has nearly quadrupled, according to BofAML, while that sold by Mexico's state-owned companies has just about doubled.

Much of the growth has been driven by companies in the energy and commodities sectors, with giants of industry including Petroleos Mexicanos SA, Petroleo Brasileiro SA, China National Offshore Oil Corp. and Gazprom PJSC all tapping the market in recent years.
The presence of state support in myriad forms has helped "smooth" the way for highly-levered emerging market corporates to raise financing. The trade-off, of course, is that many 'quasi' names have suffered during the recent bout of commodities weakness, as earnings declined precipitously. And while defaults by quasi-sovereign bonds are uncommon, they are not unheard of, especially for fiscally over-stretched governments.
State support can smooth the way for corporates with weak fundamentals but a change in circumstances can drive spreads wider, write the BofAML analysts. "Does leverage of 10 times [earnings] make you quake if the issuer is quasi-sovereign? Arguably it should — and some quasi-sovereigns have it."  
(
Corrects unit of debt issued in third paragraph, from trillions to billions.
)
Before it's here, it's on the Bloomberg Terminal.
LEARN MORE