Fed's Tarullo Says Stress Tests to Get Tougher for Big Banks
by , , and
Wall Street faces 'significant increase' on capital, he says

Fed sees compliance costs falling for regional lenders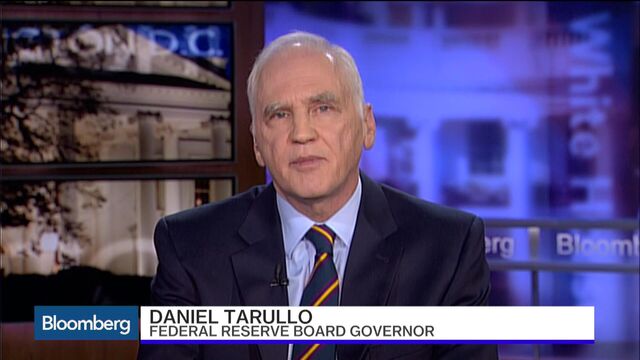 The Federal Reserve plans to make changes to its annual stress tests that will penalize Wall Street banks for being large and complex, while making the exams less burdensome on smaller competitors, said Fed Governor Daniel Tarullo.
The Fed will probably pile additional capital demands into exams for eight of the biggest U.S. lenders, Tarullo said Thursday in an interview with David Westin on Bloomberg Television. Meanwhile, the agency is considering ways to simplify the tests for regional banks that have less impact on the health of the global financial system -- likely exempting those companies from one challenging aspect of the exercise.
With billions of dollars in capital on the line, Wall Street banks have been eager to hear whether the Fed would incorporate surcharges into the tests, after central bank officials said last year that it was being considered. The banks will probably face a "significant increase" in capital targets, Tarullo said, though he added that the Fed would probably make other changes to partially offset the new constraints.
"We need to have those eight most systemically important institutions more resilient than other banks in the economy," he said. "You can have a smaller bank fail, and the economy can absorb that, but with the larger institutions, obviously there's much more of a systemic risk."
Severe Downturn
The tests already represent the highest capital hurdle U.S. banks must clear to show they can survive hypothetical scenarios devised by the regulators, such as a severe economic downturn. If the Fed raises the bar for what's necessary to pass, it could become even harder for Wall Street banks to win approval to boost dividends and stock buybacks.
"That's not good for us," JPMorgan Chase & Co. Chief Executive Officer Jamie Dimon said Thursday at a conference in New York, when asked about reports that the surcharge will be included in future tests. "That's going to be more capital."
Dimon said the decision will put more pressure on the bank to reduce its holdings of risky assets. "Which is what they want, by the way," Dimon said. "They're quite upfront about it."
One option is getting smaller, something Fed Governor Jerome Powell raised Thursday at an event in Washington. He said the Fed's capital surcharges leave banks a choice: Either have "substantially higher levels of capital" or "take steps to reduce your systemic footprint."
The Fed's changes for the big banks probably won't be finished in time for next year's tests, because the agency needs time to go through a multi-stage rule process, Tarullo said. This year's results will come in two parts, on June 23 and June 29, the central bank said after U.S. markets closed Thursday.
After the 2008 financial crisis, global regulators agreed on more stringent capital standards known as Basel III, and U.S. regulators put requirements in place that were even tougher. The Fed then took a further step to demand that the largest and most complex institutions, such as JPMorgan and Citigroup Inc., maintain extra capital ranging from 1 percent to 4.5 percent of their assets. That surcharge -- which some of the banks have since sought to reduce by restructuring -- is what would be incorporated into the stress tests.
Incorporating the surcharges into the stress tests will require Wall Street banks to hold 5 percent to 25 percent more capital or "pursue greater balance sheet de-risking," Goldman Sachs Group Inc. analyst Richard Ramsden wrote in a note to clients Thursday.
Get Smaller
Karen Shaw Petrou, managing partner of Washington-based research firm Federal Financial Analytics, said Tarullo's remarks indicate the Fed is trying to "force the biggest banks to make themselves smaller as quickly as possible."
In addition to JPMorgan and Citigroup, the other big banks affected are Goldman Sachs, Morgan Stanley, Wells Fargo & Co., Bank of America Corp., Bank of New York Mellon Corp. and State Street Corp.
Tarullo's comments had little impact on bank stocks. The KBW Bank Index, which includes 24 big and regional lenders, rose 0.4 percent in New York trading.
Happening more quickly, according to Tarullo, could be a reprieve for banks that have less than $250 billion in assets. The Fed is considering exempting such lenders from a portion of the stress tests that evaluate each firm's plans for managing capital and risk, he said. Known as the "qualitative" side of the annual tests, the requirements have "posed a particular challenge" for regional lenders, Tarullo said. He said he hopes the Fed will have the change in place for the next round in 2017.
Undue Burdens
Tarullo, 63, acknowledged that regional banks -- a group that includes BB&T Corp., Fifth Third Bancorp and Zions Bancorp -- have had to take costly steps to meet standards designed for global companies. The Fed has already indicated it planned to ease the burden on such lenders, releasing guidance before the current round of stress tests that it would tailor the process to "reflect the lower systemic risk profile and less complex operations" of banks with assets under $250 billion.
Tarullo, who is responsible for overseeing the Fed's regulations, has said in recent years that the 2010 Dodd-Frank Act may have gone too far in subjecting all banks with more than $50 billion of assets to stringent oversight. While raising the threshold requires action by Congress, Tarullo said revising the stress tests is within the Fed's power.
In the 2015 exams, the Fed objected to the capital plans of two of the 31 bank holding companies involved -- U.S. units of Deutsche Bank AG and Banco Santander SA -- and told Bank of America to resubmit its plan. The Fed also noted the industry had made strides to "substantially" increase capital since the start of the testing in 2009.
Tarullo said this is a good time to review the protections regulators have put in place since the crisis, including whether some of them "go a little bit too far." In that vein, he said the Fed and other agencies have been talking about how to ease the burden of capital rules on community banks.
"What he's trying to do is respond to the pressure that is starting to really boil up from the community and regional banks," said Marty Mosby, a banking analyst with Vining Sparks in Memphis, Tennessee. Those firms are saying, "'This wasn't intended to do this, but the side effect is we've gotten a regulatory burden that is unwieldy.'"
Before it's here, it's on the Bloomberg Terminal.
LEARN MORE