Success of Saudi Post-Oil Plan May Still Depend on Crude Prices
by
Plan details to be announced as kingdom prepares bond sale

Three scenarios show difficulties in balancing budget by 2020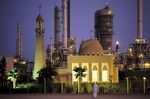 As Saudi Arabia prepares to tap international debt markets, potential investors will soon be scrutinizing details of the kingdom's blueprint for a post-oil era. They may find the plan's viability hinges on the very thing it's been designed to ignore: crude prices.
Saudi authorities are set to unveil the so-called National Transformation Program this month, and have a target to balance the budget by 2020 -- after posting a shortfall of about 15 percent of economic output last year. Deputy Crown Prince Mohammed bin Salman has said cutting subsidies and other measures will add $100 billion of non-oil revenue.
Below are three potential scenarios for Saudi's fiscal outlook in 2020.
Scenario 1: Plan delivers

If subsidy cuts, value-added taxation and a green card-type program for foreign workers deliver an additional $20 billion of new revenue each year, Saudi Arabia could balance its budget by 2020, according to EFG-Hermes economist Mohamed Abu Basha.
That scenario assumes 7 percent annual spending growth and a gradual rise in Brent crude prices to $65 a barrel by 2020. If oil prices rise faster, the government will also balance its budget sooner, Abu Basha said in an e-mail.

Scenario 2: Partial success
The government's goal to boost non-oil revenue to 20 percent of economic output from 6 percent by 2020 is "unrealistic," according to Garbis Iradian, chief economist for the Middle East and North Africa at the Institute of International Finance (IIF). An increase to 15 percent is more likely, while oil prices may only be about $52 a barrel in 2020, the IIF predicts.
If a 13 percent spending cut this year is followed by modest 3 percent increases from 2017, Saudi Arabia's budget deficit would narrow to 2.5 percent of economic output by 2020 -- or about $21 billion, IIF says. Public debt would also rise sharply as the government borrows to finance the shortfall, from 6 percent of economic output last year to 31 percent by 2020, or $262 billion.

Scenario 3: Plan pushed aside
If Saudi Arabia does nothing to reform, even an oil rebound to $71 a barrel won't achieve a balanced budget, according to a hypothetical model from Jadwa Investment. In this "no action" scenario, the budget deficit would be about $57 billion in 2020, or 6.4 percent of economic output. Public debt would rise to more than a third of economic output.
"Despite the recovery in oil prices, our model showed a rapid depletion to the kingdom's fiscal buffers," Jadwa said in a report in May. "This vision, with its emphasis on untapped opportunities, core capabilities, and need for economic prosperity comes at a critical juncture for the kingdom."

Before it's here, it's on the Bloomberg Terminal.
LEARN MORE