Spend
The Seven Bike Is Perfect for Commuting and Weekend Fun
The custom, Evergreen SL from Seven Cycles.
By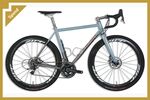 Key Details: A customized, titanium bicycle that's perfect for your commute and weekend racing.
Competitors: Litespeed T5 ($5,600), Passoni Top Force (about $10,000). 
Price: Starts at $5,775.
Why It's Worth It: Light, sporty, and under the radar, this is a super high-end bike you can still comfortably chain up outside your neighborhood bar.

Source: Seven Cycles Inc.
Summer is here, and one great way to take advantage of the friendly weather is to commute to work by bike—that's an hour or two every day outdoors, guaranteed. The trick is to find a bike that you can use for your day-to-day errands but that can double as something more fun and aggressive on weekends. Bridging that (admittedly subjective) divide is the Evergreen SL from Seven Cycles, a small, custom manufacturer in Watertown, Mass.
The Evergreen SL is light and trim, and in contrast to the brightly colored racing bikes that might as well have "steal me" written across their frames in Day-Glo, its silver frame and white lettering are blissfully anonymous. Buyers can even specify that there's no logo at all. "You can have it completely bare," said John Lewis, the head of Seven's marketing.
Aside from anonymity, the Evergreen SL boasts a light titanium frame (perfect for hauling up a walk-up's staircase), which Seven makes even lighter and more shock absorbent (jargon: "improves vertical compliance") by removing material from the tubes' interior walls. Those tubes are at maximum thickness at the ends where they're welded, though, which keeps the drivetrain rigid, thereby maximizing the transfer of energy from pedal to wheel.

Every Seven bike is made by hand and customized to the buyer's specifications. There's no store; instead, Seven works with a series of retailers who take measurements and figure out rider preferences. (Do you want to sit up on the saddle? Crouch lower? Be able to adjust it for both positions?) And while the starting price includes more than decent Shimano brakes and Mavic Aksium One Disc wheels, once it gets customized, "you can add another $5,000 onto the price if you want," said Lewis. Add carbon wheels, a carbon cockpit (stem, seat post, and handlebar), and a fully electronic drivetrain, and you're well on your way to doubling the price.
Given that each bike is custom-made, don't expect a fast turnaround. Lewis says that from order to shipping is about five weeks. You'll be halfway through summer when you get your bike, but on the flip side, you'll finally be able to enjoy the weather.
Before it's here, it's on the Bloomberg Terminal.
LEARN MORE