Spain's Rivera Won't Govern With Rajoy Due to Graft Allegations
by
Rajoy is being 'blackmailed' by corrupt officials, Rivera says

Parties gearing up for repeat election after December deadlock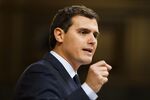 Albert Rivera, the leader of the pro-market group Ciudadanos, said that the questions over caretaker Prime Minister Mariano Rajoy's integrity make it impossible to serve under him in any coalition after this month's election.
Rajoy can't clamp down on corruption within his party because the officials involved have too much leverage over him, said Rivera, 36, the prime minister's main rival for center-right voters in the June 26 ballot. He signaled he might be willing to consider governing alongside Rajoy's People's Party if it ousted its leader.
"The prime minister of my country is being blackmailed by corrupt people," Rivera said in an interview in Brussels Wednesday. "I won't co-operate with that."
A spokeswoman for Rajoy, asked to respond, pointed to his comments in defense of the presumption of innocence -- both his own and in general -- in a television interview last month.
Rajoy is fighting to cling on to power after losing a third of his lawmakers and his majority in December's deadlocked election when a wave of allegations of PP corruption ate into his support. His term in office has been overshadowed by controversy since the former treasurer of his party, Luis Barcenas, accused him in 2013 of accepting payments from a secret slush fund for senior officials over a number of years. Rajoy has consistently denied any wrongdoing.
Potential Alliance
Barcenas' lawyer Francisco Maroto said in December his client has further evidence to show Rajoy received cash payments from the fund and was fully aware of how it operated. Barcenas is being investigated over charges of embezzlement and tax evasion and says that he is innocent, according to Maroto. Socialist leader Pedro Sanchez that week said Rajoy isn't fit to govern because he's failed to clear up the allegations surrounding him. Rajoy said those comments were "mean, deceitful and pathetic."
Rivera also took a swipe at Rajoy's no. 2, Soraya Saenz de Santamaria, who has been the government's main spokesman and one of the prime minister's biggest defenders. She hasn't been accused of any wrongdoing.
"Could you see me every Friday defending corruption in the weekly press conference? No," Rivera said. "My voters wouldn't accept it and I wouldn't allow myself to do it."
The government press officer pointed to Saenz's regular statements detailing the measures the administration has taken to tackle corruption.
Ciudadanos placed fourth in December, its first general election, winning 40 seats in the 350-strong parliament. The party's free-market policies and openness to collaboration make it a potential coalition partner for either Rajoy's PP or its traditional rival, the Socialists.
The party is already supporting a PP-led government in Madrid and Rivera signaled that it could consider a deal at national level -- if the party got rid of Rajoy.
"Where the PP has wanted to change, we have been able to do deals," he said.
Before it's here, it's on the Bloomberg Terminal.
LEARN MORE