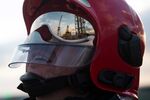 Rising prices are an effective balm. Though OPEC's member nations still disagree on reestablishing a ceiling for oil production, their meeting in Vienna ended on an upbeat note. The group's de facto leader and wayward son, Saudi Arabia, mended some fences, and ministers expressed optimism about the Saudi-led strategy of fighting for market share. OPEC's longtime role as balancer of global oil prices seems more and more a relic of the past, and its future still a topic of debate.
1. What's happened?

As expected, OPEC members continued their policy of unfettered production, rejecting even a token output target for the 13-nation group. Saudi Arabia broached the idea of restoring a production target, but it's also the OPEC member that opened the floodgates, in 2014, when it decided that protecting its market share was more important than price stability.
2. What's the market saying?

Oil prices and shares in energy producers dipped briefly on news that production will continue at full blast, but global supply and demand are more balanced than they have been for years. The fact there wasn't a bigger tumble shows there's optimism prices will keep rising even without OPEC action.
3. What's driving Saudi policy?
Competition from U.S. shale drilling, political and military rivalry with Iran and demands from its own people for societal reforms have all pressured the Saudi ruling family to shake things up. A new economic plan aims to wean the kingdom off oil revenue by 2030 and calls for partially privatizing the Saudi national oil company, Aramco, which would make it something like the profit-maximizing giant oil companies OPEC was created to counteract.
4. Who wants to slow down production?
Venezuela, Qatar, Ecuador and Algeria are among the OPEC members that have urged the group to shore up global prices by limiting output.
5. What's the outlook for OPEC?
The key to OPEC's power is the cooperation of its members on production quotas to prevent prolonged periods of oversupply and low prices. Saudi Arabia's gambit has upset that model and renewed questions about OPEC's viability. The end of OPEC has been predicted several times before during periods of low oil prices, and it's always found a way back. Plus, there are signs that the Saudi-led strategy is working and higher-cost oil producers, like U.S. shale drillers, are getting squeezed. "Don't take that notion that OPEC is dead," said the group's outgoing secretary-general, Abdalla El-Badri. "OPEC is alive. OPEC will be a very important segment of the economy of the world."
The Reference Shelf

A Bloomberg QuickTake explainer on how oil prices are set.
A Bloomberg QuickTake explainer on change in Saudi Arabia.
A Bloomberg Gadfly column on Saudi Arabia's determination to keep on pumping.
Before it's here, it's on the Bloomberg Terminal.
LEARN MORE