Panama Canal, the Reboot
A $5 billion face-lift expands passage through the Panama Canal.
By , , and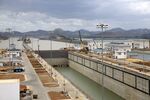 Nine years of construction work, at a cost of more than $5 billion, have equipped the Panama Canal with a third set of locks and deeper navigation channels, improvements that will double its capacity. When the new locks slide open for the first time in late June, the reverberations will be felt at Asian gas terminals, on Great Plains farms, and in ports from Long Beach, Calif., to Santiago, Chile.

Before it's here, it's on the Bloomberg Terminal.
LEARN MORE