Nigeria Starts Cleanup of Ogoni Oil Spills in Niger Delta
by and
UN report in 2011 said Ogoni may need world's largest clean up

Repairing damage may take 30 years, cost at least $1 billion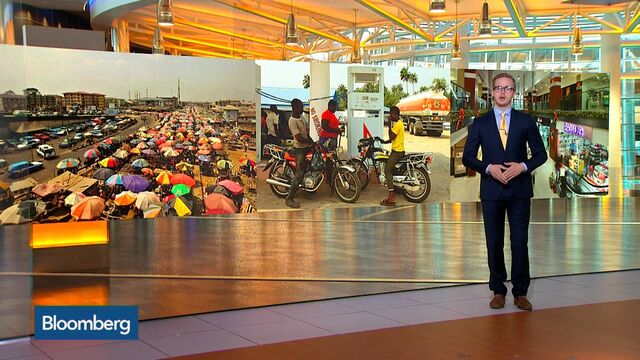 Nigeria began the cleaning up of oil spills as old as 50 years in the Ogoni district of the southern Niger River delta on Thursday, in line with recommendations by the United Nations.
A study by the UN Environment Programme at the instance of the Nigerian government, which was published in 2011, found widespread pollution in the Ogoni area that would require the world's largest clean up that could cost at least $1 billion. While no action was taken on the report for years, President Muhammadu Buhari approved a fast-track remediation process in June last year, a month after taking office following his election victory.
"Let this day mark the beginning of the restoration of not just Ogoniland but of peace and prosperity of the great land and people of the Niger delta," Vice President Yemi Osinbajo said at an oil-spill site in the region's Bodo community.
The delta and its surrounding Atlantic waters in the Gulf of Guinea account for almost all of Nigeria's crude output. While many spills in the early years were caused by mechanical failure or pipe corrosion, sabotage emerged in the last decade as the leading cause of oil pollution as armed groups attacked facilities to press political demands or stole crude for sale.
A recent surge in attacks in the region, with a group that calls itself the Niger Delta Avengers blowing up pipelines and pumping stations, has cut the nation's oil production to the lowest in 27 years at a time when Africa's biggest economy is reeling from a slump in prices.
Osinbajo urged communities in the region to work with government to "put an end to all forms of oil installation vandalism and sabotage." Such sabotage "increases the poverty cycle" in the local community and the nation, he said.
Before it's here, it's on the Bloomberg Terminal.
LEARN MORE