Mobius Bets on India's Small-Cap Stocks to Tap Growing Economy
by
Templeton bullish on consumer, Internet companies, drugmakers

India on cusp of opportunity as economy near takeoff: Mobius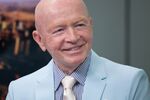 Mark Mobius is betting on shares of smaller Indian companies to profit from expansion in the world's fastest-growing major economy.
"If you factor in the reforms that are taking place and the impact they can have on company earnings, it tells us that India is on the cusp of an interesting opportunity," Mobius, executive chairman of Templeton Emerging Markets Group, said in an interview to Bloomberg Quint in Mumbai. The money manager has $2 billion in Indian stocks, of which more than $600 million is invested in shares of small companies, he said.
The S&P BSE SmallCap gauge of 762 small companies has fallen 5.4 percent this year, compared with the 2.8 percent advance in the S&P BSE Sensex, as some of the worst-performing stocks on the benchmark index last year rebounded in 2016. The smaller companies are likely to climb after trailing the rally in the biggest shares as benefits from Prime Minister Narendra Modi's growth-boosting measures take hold, Mobius said.

"Modi's policy stance and philosophy will start feeding into the economy, accelerating the pace and that's going to have a terrific impact," Mobius, who oversees $26.5 billion in emerging-market equities, said. Templeton's bullish on drugmakers, Internet and e-commerce companies, he said.
A recovery in corporate profitability after declines in four of the last five quarters and forecast for above-average rainfall following two successive droughts has lifted investor confidence in Asia's fourth-biggest stock market.
Growth Accelerates
Official data this week showed India's world-beating economic growth accelerated a faster-than-estimated 7.9 percent in the March quarter. The figures cemented India's position as a bright spot among emerging markets as China slows while Russia and Brazil see contractions. The Sensex jumped 4.1 percent in May, the best performance among benchmark Asian indexes.
Modi's government has been instrumental in narrowing the current-account deficit by curbing gold imports, while seeking to reduce bureaucracy, accelerate infrastructure construction and limit the budget deficit to a nine-year low. Still, inflows from global funds have slowed in recent months amid weak demand for emerging-market assets.
Foreigners bought $386 million of shares in May, compared with inflows of $585 million in April and $4.1 billion in March, which was the most in three years. The flows will gather pace as the global risk appetite revives, Mobius said.
"India has been somewhat held back due to the macro picture of emerging markets up to now but that is changing," he said. "More money will come into India."
Global commodity prices can rise by 5 percent to 10 percent as the sell-off had gone too far and demand is recovering, he said. Crude oil, which has rebounded from a 12-year low earlier this year, may climb further to $60 a barrel by year-end, he said.
"The reality has to come through at some point and people will realize that the world keeps on operating, things are being produced and you need raw materials," he said.
Before it's here, it's on the Bloomberg Terminal.
LEARN MORE