Junk Rating Risk Looms as South Africa Awaits S&P Decision
by and
Bond inflows positive for past week even as investors see risk

Country has done enough to avoid June downgrade, Gordhan says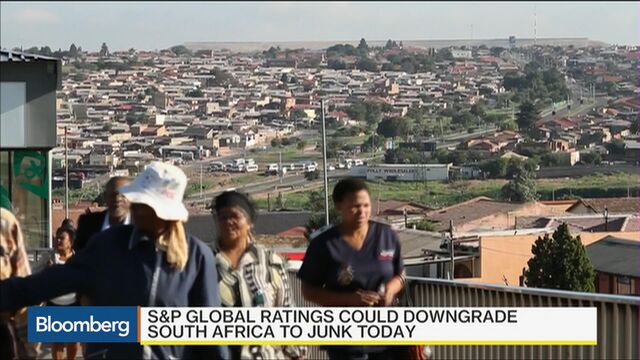 South Africa faces the prospect of being cut to junk on Friday, which could weaken the nation's currency and bonds, or being spared for at least six months.
A downgrade by S&P Global Ratings would move the company's assessment of the nation's creditworthiness to below investment grade for the first time in 16 years and put South Africa in line with Turkey and Indonesia. S&P will announce the outcome of the review of its BBB- assessment later on Friday. Fitch Ratings Ltd. has a stable outlook on its similar credit rating and also reviewed South Africa in recent weeks, although it has not said when it will announce the outcome of its analysis.
A junk rating would cause a slump in the currency and raise borrowing costs in Africa's most industrialized economy as gross domestic product is set to expand less than 1 percent this year, the slowest pace since the 2009 recession, according to National Treasury and central bank forecasts. While Moody's Investors Service kept the nation's debt assessment at two levels above junk last month, saying the economy is approaching a turning point, S&P said a week later growth has continued to disappoint.
"We are at a big risk of being downgraded," Thabi Leoka, an economist at Argon Asset Management, said by phone from Johannesburg on Thursday. "I think it's a 50/50 probability."
Net Buyers
Twelve of 13 economists and analysts surveyed by Bloomberg in April said they expected S&P to lower the rating to non-investment grade by the end of this year, with four expecting the downgrade to BB+ to happen this week. A loss of investment-grade status may prompt forced selling by some funds that are prevented by their mandate from owning junk-rated securities.
"If South Africa loses its investment-grade rating anytime soon, it will take many years to recoup this lost ground," Christie Viljoen, an economist at KPMG LLP in Cape Town, said in an e-mailed note. "The road to recovery would, however, not be a smooth journey."
While foreigners were net buyers of South African bonds in the eight days to Thursday, the longest streak of inflows in six weeks, investors still consider South Africa more risky than some junk-rated countries. The cost of insuring against non-payment of debt for five years using credit-default swaps is 53 basis points higher than for Russia, which is rated speculative grade by both S&P and Moody's, according to data compiled by Bloomberg.

If the rating is cut "there could be a bit of a shock," Malcolm Charles, a portfolio manager at Investec Asset Management in Cape Town, said by phone. "There'll be quite a negative reaction from bonds, equities and the currency come Monday morning. It'll be quite a nasty start to the week."
The rand strengthened 0.9 percent to 15.4428 per dollar as of 2:48 p.m. in Johannesburg on Friday, trimming the decline over the past six months of 7 percent. Yields on rand-denominated government bonds due December 2026 fell six basis points to 9.26 percent.
The currency could test a level of 15.25 per dollar if the rating is left unchanged, Nedbank head of strategic research Mohammed Nalla said in a note this week.

The country has probably done enough to avoid a downgrade this month, Finance Minister Pravin Gordhan said in an interview in Paris on Wednesday. Business leaders, including Colin Coleman, a partner and head of Goldman Sachs Group Inc. in South Africa, have met with Gordhan and President Jacob Zuma since February to come up with measures to boost the economy. Gordhan was reappointed in December to the post he held from 2009 until 2014 after Zuma backtracked on a decision to replace former finance minister Nhlanhla Nene with a little-known lawmaker.
"If they do downgrade South Africa, then I think there's going to be quite a lot of disappointment because the government has done its best to try and talk up the situation," Nigel Rendell, a senior analyst a Medley Global Advisors LLC in London, said by phone. "If S&P moves, then the chances are at least one of the others will move as well fairly soon afterwards, so we could see some capital flight for sure. The reaction could be quite sharp and quite negative."
Before it's here, it's on the Bloomberg Terminal.
LEARN MORE