Journalists Assaulted Covering Food Protests in Downtown Caracas
by
Protests in Venezuela are increasing as shortages worsen

Electoral board cancels scheduled meeting, opposition says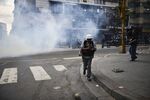 At least 19 journalists were attacked while covering food protests in downtown Caracas on Thursday, Espacio Publico, a non-governmental organization that monitors freedom of expression in the Venezuelan capital, said in a statement on its website.
The assaults included robberies by members of the National Guard and armed civilians, Espacio Publico said. Caracas-based newspaper El Nacional reported that protests erupted outside a supermarket after shoppers were told that regulated goods they had expected to be available would not be up for sale.
"We categorically reject the criminalization that the press is being subjected to as they are held hostage, threatened and repeatedly intimidated by armed groups while they cover the street," Espacio Publico said in a separate statement published by the opposition alliance on its website. The public prosecutor said in an e-mailed statement Thursday afternoon that it had appointed a judge to investigate the assaults.
While protests have been increasing across the country as Venezuelans struggle with the worst recession in decades and shortages of basic goods and food, demonstrations have until now been somewhat rare in downtown Caracas, which has traditionally been a government stronghold. The only catalyst that could threaten the government of President Nicolas Maduro this year would be a "social explosion" that would force a negotiated exit, Eurasia Group, a global research and consulting firm, said Tuesday in a research note. 
Recall Referendum
"There were some very rough hours today in downtown Caracas," Jesus "Chuo" Torrealba, the executive secretary of Venezuela's opposition alliance known as MUD, said Thursday evening at a news conference in Caracas. "Venezuela is time bomb of social and economic discontent."
Venezuela's opposition is pushing for a recall referendum on Maduro's rule to be held this year. Torrealba urged the 2 million Venezuelans who signed a petition calling for the recall process to join nationwide marches on Monday morning to "ratify" their signatures.
In Venezuela, Chavez Heir Tested as Revolution Fades: QuickTake
The marches, to be held in every state capital from 9 a.m to 12 p.m., were called after the opposition said the country's electoral board, known as CNE, had canceled a scheduled meeting to discuss the status of their request.
"We collected over 2 million signatures, and the CNE hasn't yet said how the process will go," Torrealba said. "We already have five times the signatures needed to start the process."
Before it's here, it's on the Bloomberg Terminal.
LEARN MORE