Is It Really Summer? U.K. Natural Gas Trades Like It's Winter
by
Same-day U.K. gas trades at highest since Dec. 11 on chill

Maintenance on Norway gas facilities, fields squeezing supply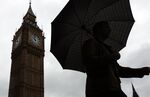 The only evidence it's summer in Britain is the calendar.
The U.K. is as chilly as it was in parts of December, pushing the price of the nation's main fuel for heating to the highest level in six months.
Same-day gas on the U.K.'s National Balancing Point market rose for a fifth consecutive day, gaining as much as 4.3 percent to the highest level since Dec. 11, according to broker data compiled by Bloomberg. Temperatures in the U.K. are forecast at 13.3 Celsius (56 Fahrenheit) for Thursday, colder than what it was six days before Christmas last year, according to The Weather Co.

A heavy maintenance schedule at Norwegian gas facilities, the U.K.'s biggest foreign supplier, has also given prices a lift. Flows into the U.K. from Norway fell to 30 million cubic meters a day on Wednesday, their lowest level since August, because of work at the Kollsnes gas processing plant on the Norwegian west coast.
The facility treats gas from producing fields in the North Sea, including Troll, the largest gas field in Norway. Work is scheduled to end June 9.
"We feel this week's price increase has been driven by a number of factors that have conspired to hit the market all at once," Sam Berry, an account manager at British Independent Utilities in Blackpool, said by e-mail. "A combination of weak nominations and colder temperatures has driven the prompt."
Within-day gas traded at 35.75 pence a therm ($5.20) per million British thermal units at noon London time. Prices may fall in the next few days. Temperatures in the U.K. are expected to warm up next week to average 18.6 Celsius, according to MDA Information Systems LLC.
In the U.K. the meteorological summer begins June 1, while summer solstice is June 21-22 this year, according to the Met Office, the national weather forecaster.
Before it's here, it's on the Bloomberg Terminal.
LEARN MORE