High Above the Gridlock, Gondola Riders Join Urban Commuters
Ski lift makers are looking to urban transportation for growth.
By and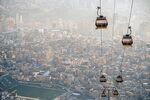 For years, Nelson Ledezma suffered through a two-hour commute by minibus from his home in the Bolivian city of El Alto to his job in neighboring La Paz. The ride was noisy, cramped, and uncomfortable as the buses navigated the traffic-clogged switchbacks on the roads connecting the two cities. Two years ago, though, the IT professional started commuting via Mi Teleférico, a gondola system that cuts his travel time in half. "The bus drivers don't care about their passengers," he says. "The gondola is safe, service is good, and the people are well-trained."
Mi Teleférico was built by Doppelmayr Seilbahnen, an Austrian company that is the world's leading maker of chairlifts, aerial trams, and gondolas for ski areas. Doppelmayr and its primary competitors, Italy's Leitner and its French sister company Poma, are looking to cities for growth. Doppelmayr has provided gondola lines to La Paz that have logged almost 50 million rides in the past two years; Poma has built cable car lines in Colombia, Taiwan, and Russia. At least two dozen cities around the world are considering building gondolas or aerial trams for public transportation, Doppelmayr says. New York, Paris, Austin, and Lagos, Nigeria, have all floated the idea. "Urban markets present a big opportunity for us," says Thomas Pichler, Doppelmayr's chief executive officer.
By 2019 the system Doppelmayr is building in La Paz is slated to have 10 lines totaling 20 miles and serving almost three dozen stations—at a total cost of about $625 million, including various improvements around the stations. The first line opened two years ago, linking the city center at 12,000 feet with El Alto at almost 14,000 feet and charging just 3 bolivianos (44¢)—a bit more than the cost of a bus ride. Since then, two more lines have opened, each identified by color. The system works much like a traditional subway or bus network: Riders can board a 10-passenger car at any station, with gondolas leaving about every 10 seconds from 6:30 a.m. to 11:30 p.m. Commuters can change lines at hub stations and make their way to their destination miles from where they began.
The idea isn't new. Since the 1950s, Chiatura, a mining town of dramatic cliffs and deep valleys in the country of Georgia, has been served by a network of more than a dozen aerial tramways. Algiers and other Algerian cities have used cable cars as public transit since at least 1956. And New York opened the tramway from Manhattan to Roosevelt Island in 1976.
The advantages of gondola lines are simple: They're relatively inexpensive and easy to build, requiring little of the on-the-ground infrastructure needed for subways or streetcars. Creative Urban Projects, a transportation consulting firm, estimates that the cost is usually about half that of a streetcar covering the same distance, though gondolas are typically better suited to, say, crossing a river or climbing a mountain, where rail would be expensive or impractical. The biggest issue is often finding locations to place the towers that support the cables.
The downside is that gondolas can carry a maximum of about 6,000 people per hour in each direction, around 10 percent of what a subway can, and they're more susceptible to inclement weather. While high winds can be mitigated by new technologies and heating or cooling the cabins is possible, both can jack up the price quickly. In some places there's concern about the cabins passing too close to buildings, allowing riders to peer into apartment windows.
Another issue is maintenance. Lifts at ski areas typically run less than eight hours a day for a bit more than four months a year, with occasional light duty in the summer—leaving plenty of downtime for repairs. A city gondola must run every day, from early morning until late into the evening. "A one-week interruption isn't acceptable on a tramway or any urban transportation service," says Nicolas Tulloue, an architect at French urban planning firm MDP Consulting who's worked on a cable car project near Paris.
So while a few places may build full-blown networks like La Paz, cable cars are more likely to be a component of a broader transit system. A Russian city is considering a gondola to link subway lines across a river, Paris is studying a project to connect two train stations separated by the Seine, and a real estate entrepreneur in New York has pitched the idea of a gondola spanning the East River from Brooklyn to Manhattan. "Cable isn't an alternative to the metro or the bus but a complementary transportation mode," says Christian Bouvier, Poma's commercial director. "Cable systems can be built faster than bridges, and the cost is far cheaper."
For the lift makers, urban systems provide an avenue of growth as their traditional markets—the Alps and the Rockies—reach saturation. The business of providing lifts to ski areas is likely to show little growth in coming decades as global warming threatens the future of snow sports and opposition increases to the opening of new resorts or even the expansion of existing ones. Doppelmayr in 2012 created a division for urban transportation, and such projects last year represented about 15 percent of revenue, triple the share four years earlier. "In our core business in ski areas in Europe and North America, we're not doing much more than rebuilding existing systems," Pichler says. "Cities are growing fast, and our installations can really improve daily life."
 
—With Catherine Elton
The bottom line: Gondolas are being considered as a component of mass transit networks in dozens of cities worldwide.
Before it's here, it's on the Bloomberg Terminal.
LEARN MORE