Goldman Says Hedge Funds Wedded to Top Picks Like Never Before
by
Top 10 positions account for 68% of fund assets, the most ever

Higher return dispersion in stocks said to present opportunity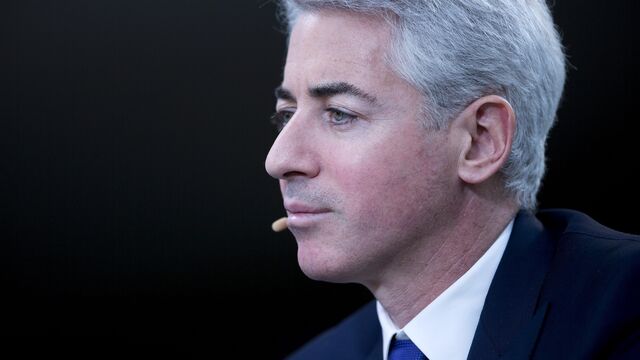 Hedge funds, who've seen their reputations take a beating in recent months, have not suffered a corresponding hit to their confidence, at least as far as stock-picking goes.
So says research from Goldman Sachs Group Inc., which found that a stock-selection metric known as concentration climbed at the end of the first quarter to the highest level on record. The term refers to the percentage of hedge fund holdings accounted for by their 10 biggest positions, currently at 68 percent. 

Coming amid the worst crush of outflows in six years, the tightening can be viewed as a doubling down in conviction that if successful will help distinguish a successful manager's returns. It's also a gamble, after a stretch where losses in a handful of stocks wreaked havoc on large swaths of the industry.
Concentration is rising at a time when another metric that measures the tendency of different speculators to pile into the same companies is on the wane. They're trends that taken together could draw a brighter contrast between winning and losing strategies.
"We're moving out of a macro-focused environment and into one where stock fundamentals matter," Ben Snider, an equity strategist at Goldman, said by phone. "It's been an exceptionally poor 2016 and that comes on the heels of many years of underperformance for hedge funds and mutual funds, so this is definitely something the industry needs."
As volatility crept into the stock market over the last year, some of the biggest losses were in stocks beloved by hedge funds. The 300 companies in the Russell 3000 Index that they owned the most shares in plunged an average 25 percent in the year through Feb. 11, compared with an 11 percent drop in the S&P 500, Bloomberg data show.
The culprit was a breakdown in the momentum style of stock-picking, a strategy that exploded in popularity last year in which investors simply buy companies that went up the fastest in the recent past. The result: a group of investors that pride themselves on independent research and stock-selection all ended up owning the same shares.
Assets managed by hedge funds fell in the first quarter as prices declined and investors withdrew money. Managers are funneling resources to the stocks they're most certain of, according to Benjamin Dunn, president of Alpha Theory Advisors, which works with hedge funds overseeing about $6 billion.
"When you're playing catch-up to zero you really have to focus on the names that are going to get you there," said Dunn. "Concentration works, it's the way you should manage your portfolio. Hedge funds are an absolute return strategy and the way to optimize your potential outcomes is having your biggest positions in your highest conviction names."
Variation among hedge funds' top 10 biggest holdings is increasing, according to Goldman's Snider, an assessment corroborated by an analysis by Evercore ISI of 13F filings with the Securities and Exchange Commission.
For that analysis, ISI looked at the 10 stocks that came up most in lists of hedge fund's top holdings. While those stocks are by definition widely held, they're a little less widely held now: 165 managers claim them, compared with 180 in the fourth quarter of 2015.
Money managers are getting some help from the market as well. The level of stock dispersion, defined as the variation among returns, is increasing after remaining suppressed throughout much of the bull market. Variation in the three-month returns of stocks in the S&P 500 was in the 70th percentile in the last three months, according to Goldman.
With fund managers' top 10 positions representing more of their total assets and a market that's offering more distinguished returns among companies, 2016 may be a year to separate the good stock-pickers from bad ones, the bank wrote.
"Hedge fund portfolio concentration stands at the highest level on record," the team, led by chief equity strategist David Kostin, wrote in the May 27 report. "The elevated stock return dispersion will help skilled fund managers generate alpha during the remainder of 2016."
Before it's here, it's on the Bloomberg Terminal.
LEARN MORE