Gannett Is Leaning Toward Dropping Bid to Acquire Tribune
by , , and
Tribune holders re-elect board members in blow to Gannett

Gannett said open to buying LA Times owner in the future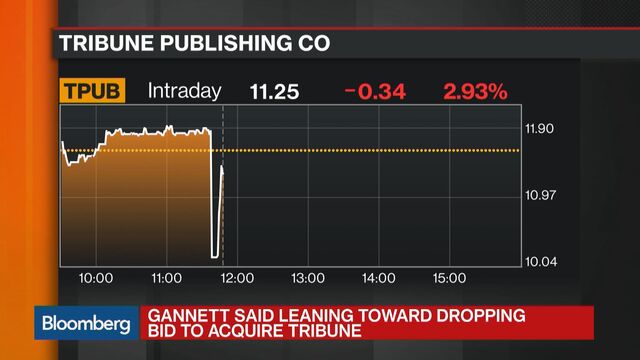 Gannett Co. is leaning toward dropping its bid to acquire Tribune Publishing Co. based on expectations that Tribune shareholders would vote Thursday to support a management-proposed slate of directors, according to a person familiar with the matter.
Tribune said in a statement that its shareholders elected the directors, but because it won't release the vote totals until Friday, it's impossible to gauge the level of support the directors received. Gannett had encouraged shareholders to withhold their votes for re-election as a show of disappointment in Chairman Michael Ferro's efforts to reject a takeover.
Several large holders, including Oaktree Capital Management, Towle & Co. and Mount Flag LLC, were seen supporting Gannett at Thursday's meeting, which was held at the law firm Sidley Austin LLP in Los Angeles, after being relocated from a hotel nearby.
Shares of Tribune fell as much as 13 percent to $10.04 on the news that Gannett might withdraw its bid, and were trading at $11.15 at 1:35 p.m. in New York. Gannett was little changed at $15.39.
Gannett, the owner of USA Today, has waged a hostile takeover battle for Tribune's portfolio, which includes the Chicago Tribune and Los Angeles Times, since April. The company has made two offers -- one in April for $12.25 a share and a second in May for $15 a share. Both included the assumption of debt, which was $385 million as of March 27. Tribune's board rejected the bids as too low and not in shareholders' best interests.
Gannett's board is still discussing its options and no decision has been made, said the person, who asked not to be identified because the discussions are private. The McLean, Virginia-based newspaper company was waiting to see how Tribune shareholders voted before making a decision, the person said.
Win for Ferro
Approval of the directors would amount to a tacit endorsement of Ferro's resistance to Gannett's latest offer.
The vote is a big win for Ferro, a newcomer to the media industry who took control of the national newspaper chain in February. The health-care entrepreneur bought shares at $8.50 each through his private equity firm, Merrick Ventures LLC, becoming the largest shareholder with a 16.6 percent stake. To fend off Gannett, Ferro last month sold enough stock to long-time friend Patrick Soon-Shiong at $15 a share to make Shiong's Nant Capital the second-largest shareholder, edging out Oaktree. Billionaire Soon-Shiong said he wants to use technology he's developed to transform the experience of reading a print newspaper.
During the 20-minute meeting, Ferro declined to answer questions from shareholders after David Hardie, president of Hallador Investment Advisors Inc., asked for an explanation of why Tribune rejected Gannett's bid. Martin Glotzer, a shareholder from Chicago, urged the board to negotiate with Gannett and asked for an accounting of the value of technology exchanged between Soon-Shiong and Tribune.
Ferro told another investor he was "out of order" after he asked repeated questions.
Tribune's maneuvers to block a deal with Gannett, including adopting a so-called poison pill, have been supported by three independent proxy voting and corporate governance advisory firms: Institutional Shareholder Services Inc.; Glass, Lewis & Co.; and Egan-Jones.
The matter has discredited the firms, said Erik Gordon, a professor of business and law at the University of Michigan.
"The claim is patently ridiculous that Gannett is nowhere in the ballpark on price shortly after the sale at half the price to Ferro and the additional issuance of stock to a friendly ally at the Gannett price," Gordon said in an e-mail.
If Gannett walks away, Ferro will roll the dice with shareholder money that he can create more value with his own business plan. Tribune, which also owns the Baltimore Sun and Orlando Sentinel, is in the early stages of a strategic plan that includes creating an artificial intelligence-based ad platform, launching new digital subscription services and expanding the LA Times globally.
Hope for Gannett
Tribune already faces a shareholder lawsuit. In a complaint made public Thursday in Delaware Chancery Court, investor Capital Structures Realty Advisors LLC said the company's directors are seeking to unfairly entrench themselves by taking steps to ward off the latest $15-a-share bid from Gannett.
"Gannett has a clearly defined path forward," said Michael Dickerson, vice president of investor relations at Gannett, who spoke at Thursday's meeting and urged Tribune shareholders to support the company's offer at the meeting. 
Gannett is open to buying Tribune at a later date, according to the person who spoke on anonymity.
"It is evident from our discussions with Tribune shareholders that there is overwhelming support for the companies to engage immediately regarding our proposed transaction," John Jeffry Louis, Gannett's chairman, said in a statement last month after the company increased its offer to buy Tribune. 
Before it's here, it's on the Bloomberg Terminal.
LEARN MORE