For Low Volatility ETFs, More Money Could Mean More Problems
When everyone is playing defense, it pays to go on offense.
By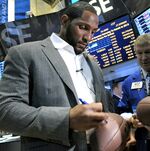 The Ray Lewis-era Baltimore Ravens, Martin Brodeur's New Jersey Devils, and the 2015 World Series-winning Kansas City Royals all testify to one of the most valuable truths in the world of sports: a good defense tends to beat a good offense.
Judging by the billions of inflows into ETFs that seek to minimize volatility, investors have sought to apply that maxim to the markets. Low volatility ETFs like the PowerShares S&P 500 Low Volatility Portfolio have trounced the S&P 500 over the past year.

But now, investors are better off playing offense, according to Citigroup Inc. Chief Equity Strategist Tobias Levkovich.
"When everyone plays defense, it is no longer uniquely defensive positioning and it seems like almost no one has the ability to score (or outperform)," he writes. "Behavioral psychology has generated a flocking into quality and minimum volatility funds, underscoring the mindset that is considering global economic and earnings concerns."
A widespread dearth of enthusiasm over the outlook for equities or the global economy suggests that all these investors rushing into low-volatility ETFs are too skittish, per Levkovich. "The time to play investment defense is when sentiment is unworried or giddy, not skeptical or fearful," writes the strategist.
Moreover, crowded trades are typically the ones most vulnerable to abrupt reversals — the kind that belie the low volatility characterization of these ETFs.
Brean Capital LLC Head of Macro Strategy Peter Tchir suggested that the inflows into these ETFs, in light of the mindset of the people who buy them, could be "sowing the seeds of their own destruction." Investors who are attracted to low volatility ETFs, he reasons, skew towards those with a relatively low risk tolerance who are conservative by nature.
Invesco PowerShares' Dan Draper, for instance, has indicated that the flood of money into these ETFs has been fueled by baby boomers who need to stay in riskier assets due to inadequate savings and for whom memories of the financial crisis are all too fresh. Tchir says these "weak hands" are likely to be sellers in the event of market turmoil. 
In addition, he worries that these massive inflows into low volatility ETFs have made the stocks they own pricey. "We have some small portion of the stock market universe that is being identified as ideal by a large amount of new money based at least partly on recent trading patterns," he writes.
However, low-volatility ETFs regularly rebalance, which should (over time) mitigate some of Tchir's concerns about their holdings consisting of stocks with lofty valuations. The strategist believes that these funds are poised to underperform whether the market goes up or down.
"The potentially expensive stocks are in the hands of potentially the most nervous investors still in the equity market," concludes Tchir. "The risk of disappointment seems high and the conditional probability of selling the funds if they underperform also seems high to me."