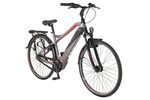 The vibe is buoyant at the headquarters of BH Bikes in Vitoria, a city in Spain's Basque region. Founded in 1909 as an arms manufacturer, the company switched to bikes after World War I and introduced its first electric model in 2008. Today there are more than 60, ranging in price from about $1,300 to $5,200. "Growth has been tremendous," says Mikel Quintana, head of the e-bike division, who expects to sell 20,000 this year, up 20 percent from 2015.
Across the Atlantic, Don DiCostanzo, the co-founder and chief executive officer of Pedego Electric Bikes, is also pumped. He anticipates his 30-employee company, based in Fountain Valley, Calif., will sell 10,000 of the brightly colored two-wheelers, which start at about $2,300, this year. "What's critical is we built a distribution system with branded stores, just like Apple," he says, referring to the company's network of 83 Pedego dealerships.

The market for electric bikes is fragmented, with BH, Pedego, and dozens of other companies selling a multitude of models, ranging from elegant folding versions aimed at yacht owners to fat-tire monsters for weekend warriors such as hip-hop mogul Sean Combs, who showed off his at last year's Burning Man festival. E-bike sales are expected to total $15.7 billion globally this year and reach $24.3 billion in 2025, according to Navigant Research. "It's a category that is wide open," says Edward Benjamin, senior managing director of ECycleElectric Consultants in Fort Myers, Fla., and chairman of the Light Electric Vehicle Association. "Little guys are jumping into a business that no one's been paying attention to," he says.
An e-bike is a bicycle with an electric motor. A rider can pedal without using the motor or use it for a boost. The motors in the U.S. are generally limited to a maximum of 20 miles per hour. Recreational riders and commuters can cover long distances and handle hills without breaking a sweat. Motorcycle bans have helped lead to massive e-bike adoption in China, where more than 200 million are in use, according to Benjamin. The country is also the world's biggest e-bike manufacturer and exporter, with giants such as Jiangsu Xinri E-Vehicle and Yadea Technology Group each able to produce several million annually. Compared with Asia, North America is barely a blip—Navigant predicts only about 152,000 e-bikes will be sold in the region this year, though it expects steady growth. "I would guess 90 to 95 percent of people in the U.S. don't even know what an electric bicycle is," says Navigant analyst Ryan Citron, who uses one to get to his job in Boulder, Colo. Unlike Europe, which boasts multilane bicycle highways, the U.S. is "really set up to commute by car, not by bike," making mainstream adoption "very challenging," he says.
That hasn't deterred ProdecoTech, an e-bike manufacturer based near Fort Lauderdale that opened an assembly plant in 2013 with the capacity to produce almost 300 bikes a day. It sold about 4,000 e-bikes in 2015 and plans to produce 8,000 to 12,000 this year under a new distribution deal with Dick's Sporting Goods, according to Robert Provost, co-founder and CEO.
Electrics "finally have legs to be able to take off in the U.S.," because cyclists are feeling safer on the roads, battery and motor technology is improving, and retail prices are dropping, says Todd Grant, president of the National Bicycle Dealers Association. However, e-bikes have been banned in some U.S. cities because of safety concerns. Some states' vehicle laws lack specific classification for e-bikes, causing confusion among riders and police, says Morgan Lommele of PeopleForBikes, an advocacy organization that's worked to get states including California, Utah, and Tennessee to pass pro-e-bike legislation. "Once we get the biggest opposition—often police departments—to ride e-bikes, they say, 'What's the big problem?' "
The U.S. market could develop "way faster" than Europe's did, says Claus Fleischer, who heads Bosch's e-bike division. The German multinational began selling motors and batteries for electric bikes in 2011 and now supplies more than 60 brands, primarily in Europe. It opened a subsidiary in Irvine, Calif., in 2014 and is sponsoring e-bike expos across the U.S., including one in Portland, Ore., that ran for three days in late May. The expo's organizer is planning to stage five more events in U.S. cities this year. Attendees will have a chance to view a large array of brands and, perhaps more important, take some of the two-wheelers for a spin. "You have to sit on the e-bike, push the pedals, and feel how the motor amplifies your own power," Fleischer says.
The bottom line: Makers of electric bikes are targeting the U.S., where sales are a fraction of those in Asia and Western Europe.
Before it's here, it's on the Bloomberg Terminal.
LEARN MORE