Draghi Stimulus Check Still in the Mail as ECB Gauges Impact
by and
President says March measures will take time to work through

Some economists see diminishing returns from each easing dose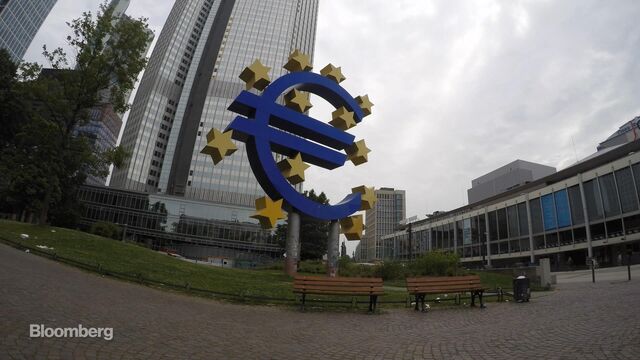 Mario Draghi's insistence that his stimulus program is only half done brings with it a worrying thought. What if its best effects are already spent anyway?
QuickTake Europe's QE Quandary
At least four times at Thursday's press conference in Vienna, the European Central Bank president emphasized how policy makers need to see the "full impact" and must "focus on implementation" of their measures. That augurs a busy month ahead as officials keep hoovering up government debt, start buying corporate bonds and enact the first of four long-term loan offerings to banks.
While Draghi's remarks suggest the next major calendar point for the ECB's assessment of its stimulus will be September -- after the release of economic-growth data and coinciding with its fresh forecasts -- the omens so far are weak. Yet another report of negative consumer prices this week underscored the challenge of revitalizing an economy fatigued by years of debt crises and delayed reforms, and battered by global forces beyond the ECB's control.
"We're getting to the point of radically diminishing effectiveness of these interventions," Andrew Balls, Pimco's global fixed income chief investment officer, said on Bloomberg Television. "If we get a recession, which is perfectly plausible over the next three to five years, there's a real question in terms of how policy makers can respond."
The euro traded at $1.1153 at 10:16 a.m. in Frankfurt, little changed on the day. The single currency swung by less than one U.S. cent on Thursday, the smallest move on the day of a ECB meeting since officials started quantitative easing in March last year.
No Hesitation
Asset purchases that began in 2014 morphed into a full-blown QE program that has since been extended, expanded and broadened. Officials are now committed to buying 80 billion euros ($90 billion) a month until at least next March. Interest rates have been cut almost as low as banks can bear, and from this month those same lenders can access a program that potentially pays them to receive central-bank cash.
Draghi insists that policy makers not only see the measures as effective, they're also ready to do more if needed.
"We have to see the full impact of the measures decided in March, both the ones that have been implemented and the ones that are going to be implemented," he told reporters. "It's quite clear, however, that we will not hesitate to act."
The ECB may indeed have skirted a severe deterioration in financing conditions. Loans to euro-area businesses are cheaper, with the average cost of borrowing down to just above 2 percent in March from around 3 percent at the beginning of 2014. Interest rates on mortgages recorded a comparable decline over the same period.

Yet the institution's newest economic forecasts, which include the effect of the latest round of stimulus for the first time, show the inflation goal isn't any nearer. The latest outlook is that consumer-price growth will average 1.6 percent in 2018, significantly short of the target of just under 2 percent.
"If you look through the eyes of the ECB, you see a slight pickup in investments, a slight tick-up in monetary aggregates and also in lending," said Carsten Brzeski, chief economist at ING-Diba in Frankfurt. "How long will it take? The answer is that it depends on all the stuff such as structural reforms, individual economies, and that's very hard to know."
Inflation has been at zero or below for 10 of the past 18 months and hasn't approached the goal since early 2013. The central bank's favorite gauge of market-based inflation expectations is stubbornly stuck at about 1.5 percent, barely up from a record low of 1.36 percent at the end of February.
Stimulus Doubt
Officials often struggle to hide their disappointment, and the ECB's increasing emphasis on the need for government action on structural reforms partly reflects that. Such results also leave some economists wondering if each extra stimulus step is achieving less.
"They are losing effectiveness," said Michael Schubert, an economist at Commerzbank AG in Frankfurt. "I'd say further measures will affect financial markets but won't affect the real economy."
Draghi's emphasis on assessing the impact of actions for now puts the focus on gauging the second quarter. Euro-area economic growth accelerated to 0.5 percent in the first three months of 2016, though the ECB head said that'll probably slow this quarter. The policy decision on July 21 comes before the release of the next gross domestic product data, meaning that it's only at the Sept. 8 meeting that officials will have a fuller picture.
A survey of purchasing managers published Friday showed that new business growth at the region's manufacturing and services companies fell to a 16-month low in May, meaning output is likely to stay subdued in the coming months.
Asked whether the lack of improvement in the inflation forecasts suggests officials will have to add stimulus, as most economists surveyed by Bloomberg predict, Draghi demurred.
"We have to focus on the effects of the measures that we have taken," he said. "And then we will be in a better position to answer your question."
Watch next: Is Draghi's Stimulus Plan for Europe Working?
Before it's here, it's on the Bloomberg Terminal.
LEARN MORE