Double Flip-Flop on Japan Economic Policy Risks Credibility Hit
By and
Abe's tax delay sparked rare public disagreement in the LDP

It follows Kuroda's about-face in January on negative rate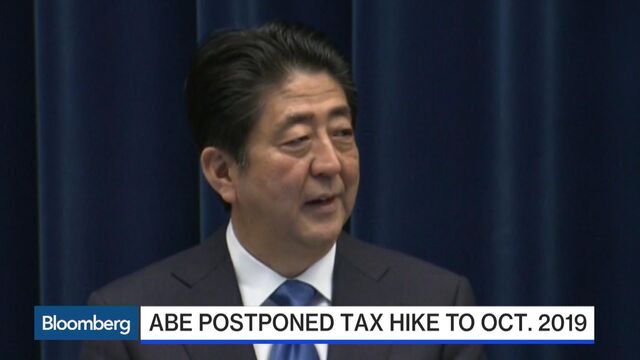 For the second time this year, Japan's top policy makers have performed a U-turn on a pivotal economic strategy, leaving a trail of confusion and denting their credibility in the process.
The changes of direction -- first by the central bank on monetary policy and now by the government on taxes -- have raised questions about Governor Haruhiko Kuroda's communications tactics and Prime Minister Shinzo Abe's commitment to much-needed reforms.
After more than three years of Abenomics, there is an increasing disconnect between the pledges and statements of policy makers and their ultimate decisions. Besides raising doubts about whether the sales tax will ever again be boosted, Abe and Kuroda's moves risk generating greater volatility in Japan's markets. The country's stocks tumbled in the two trading days after the tax announcement.
"There is a lot of confusion," said Izumi Devalier, an economist at HSBC Securities Asia. "Foreign investors are just hoping that Japan gets on with it and accepts the inevitable and goes full throttle with monetary and fiscal stimulus."
The prime minister's decision Wednesday to postpone an increase in Japan's sales tax came after he repeatedly vowed to push it through. While the decision was expected by many investors and analysts, who had warned the hike would hurt the economy, Finance Minister Taro Aso only learned of the move shortly before it was announced, according to a government official who asked not to be named as the discussions were private.
Blow to Credibility
The end result is a blow to Abe's credibility in setting an October 2019 date for the increase, according to Steven Reed, a professor of political science at Chuo University in Tokyo.
"If you've postponed it twice, nobody's going to believe you're ever going to do it," Reed said.
Abe's performance as host of last week's Group of Seven meeting also raised eyebrows. His attempt to get leaders of the world's largest economies to ramp up their warning on the outlook for global growth to help justify his policy switch ended in failure.
For more on Abe's failed bid to get a warning included in the G-7 communique, click here.
In the days since, Abe has toned down his language.
"His eccentric performance at the G-7 made him look isolated and out of step with other world leaders," said Jeff Kingston, director of Asian studies at Temple University in Japan. "Essentially, Abe wanted to argue that the global economy ate his homework and that is why he is kicking the can down the road on the tax hike. He has since recanted."
If Abe does have a credibility issue, that's not something with any apparent resonance with voters, with his ruling coalition poised to win the most seats in an election to the upper house of parliament next month. Aso told reporters that while questions would be raised about the tax decision, it wouldn't dent trust in authorities.
Changing policies to suit the economic circumstances is prudent, said Marcel Thieliant of Capital Economics in Singapore.
"I think it's better to risk credibility than to stick to earlier promises even if this would do more harm than good," he said.
Kuroda Surprise
Abe's U-turn follows Kuroda's decision to introduce a negative interest rate policy the same month that he publicly ruled out the idea. The January move sparked criticism from investors that Kuroda was deliberately surprising markets to get maximum impact.
Despite the unpopularity of the strategy, Kuroda told reporters at a press conference in April that the BOJ doesn't have a communications problem and that he wants to wait and see how the introduction of negative rates affects the economy.
Abe had repeatedly pledged that his government's policies would strengthen the economy enough to withstand an increase in the sales tax to 10 percent in April 2017. The mantra, reiterated by finance chief Aso as recently as May 21, was that only a shock on the level of the 2008 Lehman Brothers collapse or a disastrous earthquake would prompt a delay.
That pledge cornered Abe into playing up global risk to excuse his change of plans, according to some analysts and the main opposition Democratic Party.
'Lehman Shock'
In a May 27 press conference following the G-7 gathering, Abe referred nine times to the "Lehman shock," as the financial crisis is known in Japan. He warned that the 2015-2016 plunge in commodity prices had been as bad as in 2008-2009, and that last year's global growth was the weakest since the crisis. His assessment was contradicted by International Monetary Fund Managing Director Christine Lagarde.
On June 1, when Abe held a press conference making the sales tax delay official, he mentioned Lehman four times -- but two of his references denied that the current situation was anything like the financial crisis.
He has promised a new stimulus package for this autumn, without specifying its scale.