Denmark Dumps $3.5 Billion in FX Interventions Amid Brexit Risks
by and
Central bank weakens krone for first time since February 2015

Investors see krone assets as haven amid EU uncertainty
Denmark's central bank dumped the equivalent of $3.5 billion in kroner to weaken the currency and defend its peg to the euro.
The intervention comes amid speculation that Britain's vote on its European Union membership is driving demand for AAA-rated assets in a development that is already putting pressure on Denmark's currency peg.
The central bank raised its currency reserves to 426.9 billion kroner ($64 billion) in May, with 23.6 billion kroner of that representing direct interventions, it said in a statement on Thursday. The move follows a strengthening of the krone against the euro to levels not seen since the beginning of last year, when Denmark was forced to fight a speculative attack on its peg following Switzerland's decision to abandon its ties to the euro.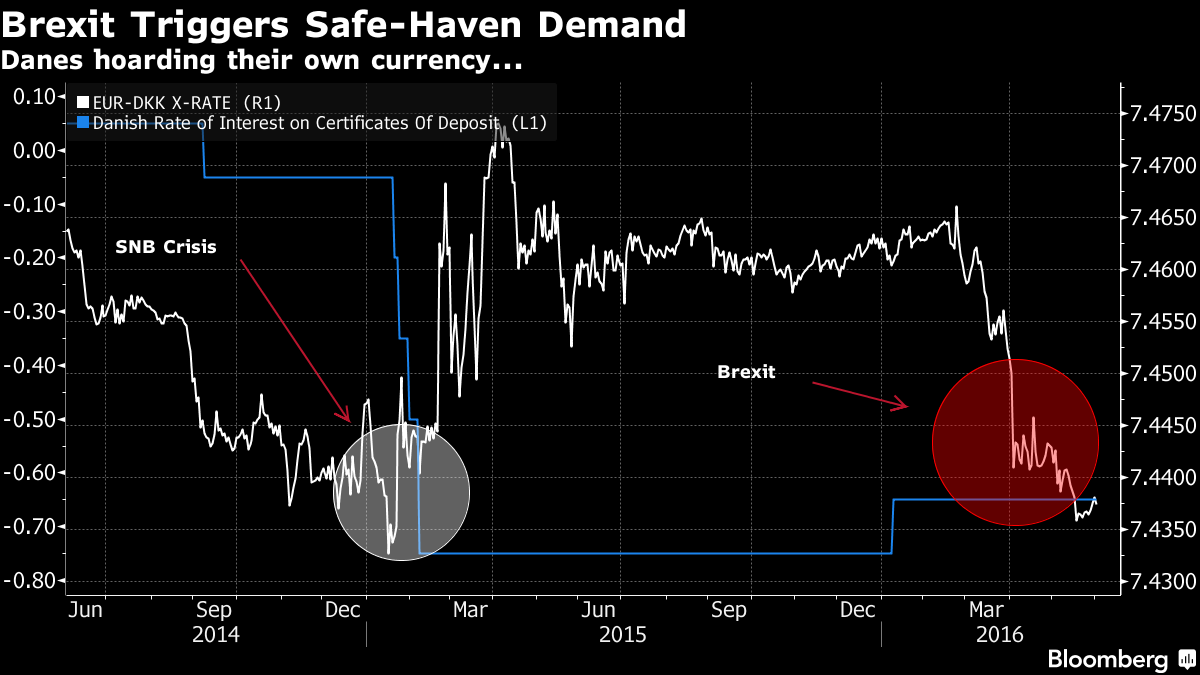 The "very large intervention should be seen as a consequence of more investors seeking refuge in Danish kroner as EU cooperation becomes increasingly fragile and uncertain," said Tore Stramer, chief analyst at Nykredit in Copenhagen.
Last month's intervention marks the first time since February 2015 that the central bank sold kroner to weaken the currency.
Denmark's monetary policy steps in the near future will to a large extent depend on the outcome of Britain's June 23 vote on whether to leave the EU, according to Nordea, Scandinavia's biggest bank.
"If that happens, Denmark will become a safe haven, just as it did during Europe's sovereign debt crisis," said Jan Stoerup Nielsen, a senior analyst at Nordea in Copenhagen. "That could open the door to a capital influx into Danish markets and trigger a rate cut."
Denmark responded to its peg crisis last year by cutting its benchmark deposit rate to minus 0.75 percent, almost doubling foreign reserves to about 40 percent of gross domestic product and halting government bond sales. The deposit rate has been at minus 0.65 percent since a January hike.
Before it's here, it's on the Bloomberg Terminal.
LEARN MORE