China Toxic Debt Solution Has One Big Problem
Bloomberg News
Non-state buyers of riskier NPL security tranches look scarce

BOC, CMB sell more than 50% of their offerings to other banks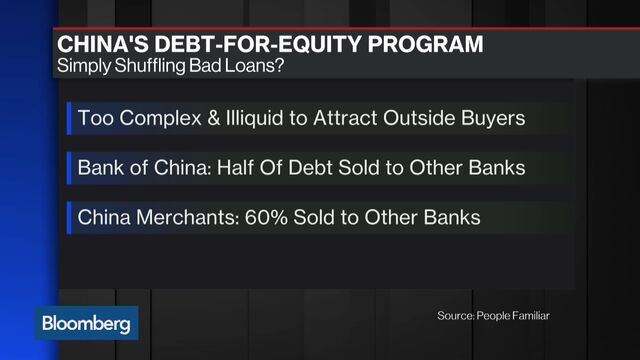 On paper, China's latest effort to rid its banks of bad loans looks sensible. By packaging the debt into securities, lenders hope to unload them onto risk-hungry investors, a potential win-win solution that garnered praise from billionaire Wilbur Ross.
But if the first deals in this 50 billion yuan ($7.6 billion) program are any guide, the whole exercise may end up just shuffling bad debt between banks, doing little to improve the health of China's financial system as a whole.
Bank of China Ltd. sold at least half of its 301 million yuan debut offering of NPL-backed securities to other Chinese lenders on May 26, according to people familiar with the matter, who asked not to be identified because they aren't authorized to speak publicly. Ninety-five percent of the deal's riskiest tranche was purchased by a state-owned asset manager, a sign of tepid demand among private institutions. That same day, China Merchants Bank Co. sold at least 60 percent of a 233 million yuan NPL offering to other banks, people familiar said.

While an initial show of support from lenders could help draw outside investors, skeptics of the program say it's unlikely to attract widespread demand because the securities are too complex and illiquid for most of China's non-bank institutions. A failure to purge lenders of their NPLs may fuel expectations for a government-led bailout, which Standard Chartered Plc estimates could cost as much as $1.5 trillion.
"We don't have enough domestic institutional investors with the expertise to price such complex products," said Ming Ming, Beijing-based head of fixed-income research at Citic Securities Co., China's largest brokerage. "Lack of qualified investors, especially in the junior tranche, will make it hard for banks to sell NPL-backed securities and constrain their development."
The build-up of bad loans is one of the biggest risks facing Asia's largest economy. After years of flooding the country with credit, lenders now face a surge in troubled borrowers as economic growth slows to its weakest pace since 1990 and company profits shrink. China has about $2.4 trillion of corporate debt at risk of default, according to Bloomberg Intelligence.
The central bank has promoted NPL-backed securities as one way to free up lenders' balance sheets and shift bad debt to institutions better able to cope with the risks. Authorities hope to build a market-oriented platform for banks to unload soured loans and develop the nation's burgeoning asset-backed securities market, Pan Gongsheng, deputy governor of the People's Bank of China, said in March.
For a Gadfly commentary on China NPLs, click here.
The problem is that most Chinese insurers, trusts, brokerage firms, and mutual funds lack the expertise to invest in bonds backed by bad loans, according to Luo Yi, a Shenzhen-based analyst at Huatai Securities Co. Faxes to the central bank and the China Banking Regulatory Commission went unanswered, while press officers at Bank of China and China Merchants Bank declined to comment.
New buyers could emerge as the program expands. The securities have some appeal to hedge funds and asset-management companies, who are willing to bear the risk of losses for the prospect of higher returns, said Xuanlai He, a credit analyst at Commerzbank AG in Singapore.
If NPLs are sold "with transparency and with reasonable pricing, that'll be a very good help for the Chinese banks and it will create an opportunity for people like ourselves," Ross, the 78-year-old chairman of WL Ross & Co. who made his fortune buying distressed assets, said in a Bloomberg Television interview in New York on May 25.
Steel Glut
The loans backing Bank of China's securitization were priced at 24 percent of face value, versus the lender's estimate of a collection rate of 34 percent. The senior tranche, the portion bought by other banks, earned a AAA grade from domestic credit rating companies and has a coupon rate of 3.42 percent. The debt came mostly from Shandong province, a hub for steel producers that's been battered by a glut in the building material.
Even if demand for NPL securities picks up, the program is too small to have a meaningful impact on China's banking system, according to S&P Global Ratings. Official data show soured loans at commercial lenders climbed to 1.39 trillion yuan in March, the highest level in 11 years, and many analysts say that figure understates the true scale of the problem.
"Recognition of greater asset impairment may only come after the banks have built up further buffers, credit growth is deemed sustainable by China's authorities, and/or the system is viewed as less vulnerable to contagion," said Grace Wu, a Hong Kong-based analyst at Fitch Ratings.
For a QuickTake summary of China's debt buildup, click here.
Capital requirements make the sale of NPL securities unattractive for banks, according to Yang Xing, a researcher at Industrial & Commercial Bank of China Ltd.'s Urban Finance Research Institute. Lenders must hold on to at least 5 percent of their own deals and must set aside capital worth 1,250 percent of their holdings in junior tranches, versus a 100 percent capital charge on normal loans, according to Yang.
NPLs in China may eventually trigger a government bailout, according to Standard Chartered economists led by Ding Shuang. Soured debt could have reached 14 trillion yuan at the end of 2015, while cleaning up bank balance sheets through a combination of removing bad debt and recapitalization could cost as much as 15 percent of China's gross domestic product, they said in a May 24 report.
"Chinese authorities have yet to accept that a bank bailout costing trillions will be required," Anne Stevenson-Yang, the co-founder of J Capital Research, a Hong Kong-based advisory firm, wrote in a May 31 note. "We expect that it will be required soon."