China Stocks Rise to Highest in a Month as Consumer Shares Gain
Bloomberg News
Consumer-staple, technology shares lead industry groups higher

Fluctuation pattern may continue for a while: Xufunds' Wang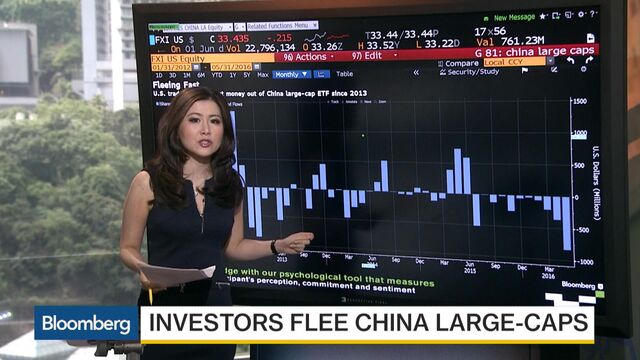 Chinese stocks rose to the highest level in almost a month, led by consumer-staple and technology shares, adding to the benchmark gauge's steepest rally since March this week.
The Shanghai Composite Index increased 0.4 percent after changing direction at least seven times. Gains accelerated in the final 15 minutes of trading after fluctuating for most of the session. The gauge, which jumped 3.3 percent Tuesday amid optimism the nation's equities will be included in MSCI Inc.'s global indexes, declined 0.1 percent on Wednesday. Liquor maker Kweichow Moutai Co. rose to a record and Midea Group Co. fell as Germany explored ways to stop its takeover of robot maker Kuka AG.
While stocks edged higher, trading turnover in Shanghai dropped 22 percent from Tuesday's level. The Shanghai Composite this week broke out of a narrow range around 2,800, where it has hovered in recent weeks, amid speculation that yuan-denominated shares have a higher chance of joining MSCI indexes. Local authorities last week published rules to curb trading halts, seen by traders as the biggest obstacle to their inclusion.
"The market needs to consolidate after the big rally" on Tuesday, said Wang Chen, a partner with Xufunds Investment Management Co. in Shanghai, who is adding to stock holdings at about 50 percent of asset allocations. "The fluctuating pattern may last for a while."

The Shanghai Composite rose to 2,925.23. The CSI 300 Index added 0.2 percent, with gauges of consumer-staple and technology shares advancing at least 0.6 percent. Hong Kong's Hang Seng China Enterprises Index climbed 0.6 percent and the Hang Seng Index increased 0.5 percent.
Kweichow Moutai gained 1.5 percent and Wuliangye Yibin Co. added 1.2 percent to pace gains for consumer shares. Dongxu Optoelectronic Technology Co. rose 3.2 percent to its highest level this year.
Midea lost 1.3 percent after a 7.1 percent jump on Wednesday as the German government sought other potential buyers for Kuka and looked at ways to attach conditions to the purchase by China's biggest home-appliance maker. Midea already owns 13.5 percent of the German supplier of automation equipment indirectly and said it's targeting a stake of at least 30 percent.
— With assistance by Shidong Zhang
Before it's here, it's on the Bloomberg Terminal.
LEARN MORE