China's Soccer Ambitions Extend to Pele's $7.2 Million Auction
by
Brazilian icon selling 1,600 pieces of memorabilia from career

Pele is the only player to win World Cup three times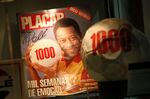 China's global soccer status could get a bump next week at an auction house in London.
Soccer icon Pele is selling his collection of awards and memorabilia -- and Chinese investors are expected to be among the most active bidders.
"China has huge money and they are new to western memorabilia," said Martin Nolan, executive director of Beverly Hills, California-based Julien's Auctions, which is handling the auction, set to take place June 7 to June 9 in London. "Football is hugely growing in China and will continue to grow."
Fueled by President Xi Jinping's desire to turn the country into a soccer powerhouse, wealthy Chinese have embraced the sport. In March, Chinese billionaire Wang Jianlin's Dalian Wanda Group Co. pledged hundreds of millions of dollars to FIFA, becoming the first major sponsor for the soccer body since a criminal corruption scandal overwhelmed the organization. Two Chinese companies also are seeking controlling stakes in Inter and AC Milan, two of Italy's biggest clubs.
Brand Pele
Pele, 75, is hoping to make as much as 5 million pounds ($7.2 million) by selling everything from his World Cup medals to a replica of the 1970 Jules Rimet trophy that FIFA gave him after his final tournament win. He will donate some of the proceeds to a children's hospital in the southern Brazilian city of Curitiba, he said, among other causes.
"A lot of people say 'gosh you are going to take all these trophies out of your trophy room and give them away,"' Pele said in an interview in London. "I say 'To the contrary, people who love Pele want these things and will look after them.'"
The Brazilian icon, whose full name is Edson Arantes do Nascimento, is still one of the best-known sports figures in the world, even though he hasn't played professionally since the 1970s. He is the only player who has won three World Cups, and his marketing value has soared again as Brazil prepares to host the 2016 Olympics.
Pele, who has periodically struggled financially in his retirement, said the sale isn't motivated by money.
"The decision to sell these pieces, thanks to God, wasn't made because of a financial problem," said Pele. "If I wanted to make lots of money I would be a football coach."
Before it's here, it's on the Bloomberg Terminal.
LEARN MORE