Canada Stocks Rise as Oil Rebounds on U.S. Stockpiles Decline
by
Oil producers at Vienna fail to agree on output ceiling

Concordia tumbles after report Blackstone not doing deal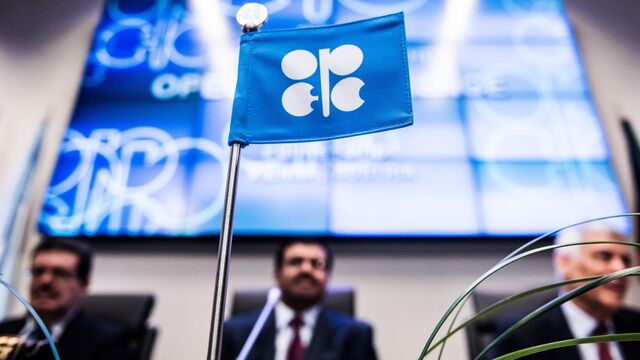 Canadian stocks rose, with the S&P/TSX Composite Index reaching the highest level since August, as oil prices rebounded after a decline in U.S. crude supply offset OPEC producers failing to agree on a new output ceiling.
The S&P/TSX rose 0.5 percent, to 14,136.99 at 4 p.m. in Toronto after fluctuating in the morning. The index is up 8.7 percent this year, the second most after New Zealand among developed-market nations tracked by Bloomberg. Trading volume on Wednesday was 32 percent lower than the 30-day average.
The rally has maintained Canadian shares' more expensive valuation relative to their U.S. peers. The S&P/TSX now trades at 21.6 times earnings, about 11 percent higher than the 19.5 times valuation of the S&P 500.
Global equities ended little changed amid the swings in crude prices and concerns about global growth. European Central Bank President Mario Draghi said the full effect of the central bank's stimulus measures have yet to spur growth, a day after manufacturing data from Japan to the euro zone disappointed. U.S. jobless claims dropped a third week, pushing the Federal Reserve closer to a potential interest-rate increase.
In Canada, energy producers rose 1 percent to rebound from earlier declines. Oil recovered to close above $49 a barrel in New York, as U.S. stockpiles dropped the third time in four weeks. Brent crude settled at the highest in seven months. A meeting of the Organisation of Petroleum Exporting Countries in Vienna failed to produce a supply accord, leaving production unfettered amid a global supply glut.
Teck Resources Ltd. and Goldcorp Inc. increased more than 1.1 percent, pacing gains with raw-material producers.
Concordia Healthcare Corp. tumbled 9.3 percent, the most in two months and the biggest drop in the S&P/TSX today. The stock had surged as much as 11 percent earlier after StreetInsider.com reported today Blackstone Group LP is near an agreement to buy the drugmaker. The shares then plunged, with shares briefly being halted, after the Wall Street Journal reported Blackstone and Carlyle Group were said to walk away from a deal. Health-care stocks were the only group to retreat out of 10 in the S&P/TSX.
The rally in Canadian equities, fueled by a rebound in commodities prices and financials, sputtered earlier this week amid renewed concerns weak global growth will constrain demand for basic materials, while the prospect of higher U.S. interest rates has sent the dollar higher.
Federal Reserve Chair Janet Yellen's comments on May 27 pointed to a likely interest-rate increase in coming months that is dependent on economic improvement. Traders have now priced in a 55 percent chance for an increase in July, according to data compiled by Bloomberg.
Before it's here, it's on the Bloomberg Terminal.
LEARN MORE