California's Weird Senate Race Has Republicans Rooting for a Democrat
The state's runoff primary system has some GOP strategists crossing party lines and backing Loretta Sanchez in a bid to thwart Kamala Harris.
By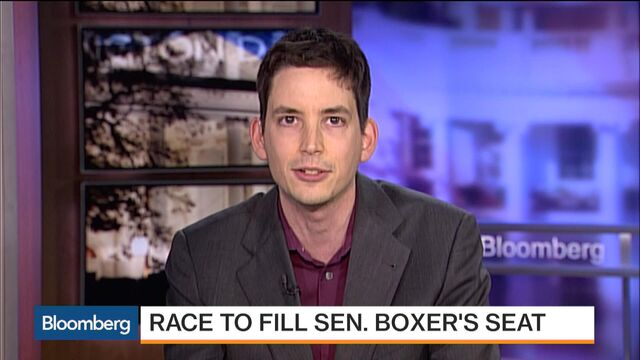 A dozen Republicans are competing to succeed U.S. Senator Barbara Boxer, whose retirement is opening one of California's two seats for the first time since 1992. But prominent GOP consultants are talking up a Democrat: Representative Loretta Sanchez, a 10-term congresswoman from Orange County, a longtime Republican stronghold.
In 2012, California began holding open primaries. The top two finishers proceed to a November runoff, regardless of their party affiliation. Sanchez has consistently trailed her fellow Democrat, Attorney General Kamala Harris, who's been endorsed by Governor Jerry Brown and other party leaders. None of the Republican candidates has polled higher than 9 percent, though almost a third of likely voters, including 46 percent of Republicans, remained undecided two weeks before the election, according to the nonpartisan Public Policy Institute of California.
For the California GOP, which hasn't won a statewide race since Arnold Schwarzenegger was reelected governor in 2006, the prospect of a faceoff between Harris and Sanchez in the fall is an invitation to play kingmaker. "You will see Republican operatives and business organizations working aggressively to support Loretta Sanchez," says strategist Mike Madrid, a former state GOP political director. "That is where most of us will go."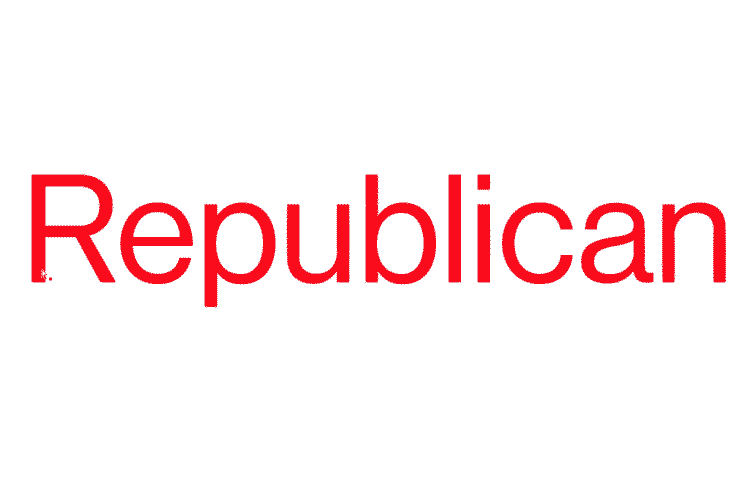 Stu Mollrich, a media strategist who worked for Schwarzenegger—as well as for Carly Fiorina, who ran against Boxer in 2010 and lost badly—is already actively backing Sanchez. "You look at that combination of moderate views, being able to work in a bipartisan way, and being very, very strong on national security—that's a good portfolio," says Mollrich, who's advising a pro-Sanchez super-PAC called California's New Frontier.
In the House, Sanchez has joined Republicans on some issues, including shielding gun manufacturers from liability and curbing regulations on for-profit colleges. In a closely divided Senate, having a Democrat willing to side with Republicans could help the GOP.
California's New Frontier has reported raising about $90,000 from a handful of donors, including Ginny Ueberroth, whose husband, Peter, the former Major League Baseball commissioner, ran unsuccessfully for governor in 2003. "A Republican candidate really can't win, at least the ones that are running now," Mollrich says. "None of them can."
Even some of the candidates seem to agree with that assessment. "You can say it's humiliating if there's no Republican on the ballot. You can say it's also humiliating if the Republican loses by 30 points," says GOP Senate hopeful Ron Unz, a software developer who first made his name in California in 1994 as a 32-year-old novice. That year, Unz ran against Pete Wilson in the Republican primary and won more than a third of the vote. In 1998, Unz successfully sponsored a ballot measure that effectively ended most bilingual education programs in the state. (A measure on this year's November ballot would repeal most of its provisions.)
Unz is running for Boxer's seat in part to promote his plan to raise the minimum wage and drastically reduce immigration to the U.S., including legal immigration. "This could be two of the most cost-effective months I've ever spent," Unz says. He says he hopes supporters of Donald Trump and Bernie Sanders will warm to his message.
Another Republican Senate candidate, former state GOP Chairman Duf Sundheim, says the trouble lies in his party's failure to unify behind a single standard-bearer. Sundheim tried unsuccessfully to broker a deal in which every Republican except the front-runner would drop out by March. Tom Del Beccaro, another former state GOP chairman running for Boxer's seat, says he didn't agree to the plan because he didn't believe Sundheim would let someone else be the party's candidate. "We're a weak party if we can't trust each other enough," Sundheim says.
The three leading Republicans in the race—Del Beccaro, Unz, and Sundheim—have raised more than $900,000 among them. Separately, a super-PAC funded by Charles Munger Jr. reported spending more than $50,000 as of late May to support Sundheim's campaign. Another newly formed super-PAC, Californians for Fiscal Responsibility, reported spending more than $500,000 on Sundheim's behalf from May 23 to May 31, including $380,000 for a direct-mail campaign opposing Del Beccaro, who polls slightly higher than Unz and Sundheim. "The Establishment's after me," Del Beccaro says of the efforts to hurt his candidacy.
By comparison, Harris has raised about $11 million, and Sanchez has brought in $3.6 million, including money she transferred from her House re-election committee. Along with their financial advantage, both Democrats are expected to enjoy a boost, thanks to the unfinished Democratic primary contest between Sanders and Hillary Clinton. On the Republican side, Trump's victory may dampen enthusiasm and turnout.
A surge of new registrations has swelled California's voter rolls by more than 2 million since the beginning of 2016, according to Political Data, a nonpartisan data analytics company. About half of the newcomers are Democrats; fewer than a quarter are Republicans. "This is massive, unprecedented, bigger than we've ever seen it," says Political Data Vice President Paul Mitchell.
In the May Public Policy Institute poll, 51 percent of Republicans said they'd skip voting in the Senate race if there are only Democrats on the November ballot. That includes people like Christine Eskola, a retiree who attended Trump's May 25 rally in Anaheim, a city in Sanchez's congressional district. Eskola says she'd never vote for a Democrat and plans to write in a candidate in November if it's a Sanchez-Harris matchup. "They stand for open borders," she says. "We can't do that. America won't last."
Mollrich says he can bring skeptical Republicans around. As a reason for GOP voters to pick Sanchez—even if they don't like the idea of voting for a Democrat—he cites a recent Harris campaign ad featuring Massachusetts Senator Elizabeth Warren, who has endorsed Harris. "That just makes it so clear: If you love Elizabeth Warren, maybe you'll like Kamala Harris," he says. "And if you get her, you may have to love her for the next 24, 30 years."
Others echoed the same idea. "It's going to be a Democratic seat no matter what," says Reed Galen, who was deputy campaign manager for Schwarzenegger's 2006 re-election. Sanchez, he says, "would be the only legitimate option for the vast majority of Republicans."
Harris's campaign declined to comment at length on the prospect of Republicans coalescing behind Sanchez. "I'll let those folks explain their motives," says Harris spokesman Nathan Click. "We're prepared, whatever the outcome is."
—With assistance from Tim Higgins.
Before it's here, it's on the Bloomberg Terminal.
LEARN MORE