British Are Far More European Than They Think, EU's Juncker Says
by
European Commission president says he admires U.K. pragmatism

Remarks follow anti-Brexit comments by other EU policy makers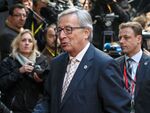 The U.K.'s "no nonsense" attitude toward politics means the European Union would be worse off if the country voted to leave, and Britons have a greater affinity to the EU than they realize, European Commission President Jean-Claude Juncker said.
"They are far more European than they think," Juncker told a conference of business leaders in Brussels on Thursday. "I very much admire the British no-nonsense politics; I like their pragmatism; I like the British way of approaching very complicated issues."
Juncker, a former Luxembourg prime minister who helped shape David Cameron's deal on changes to the terms of EU membership earlier this year, said Britain's contribution to Europe went further than just its economic might and its place as a financial center.
"Britain is country No. 1 when it comes to translation into national legislation of European decisions," he said, adding that he hoped the U.K. would remain a part of the club of countries it joined in 1973.
Exactly three weeks before British people vote in a referendum on the U.K.'s continued place in the 28-nation bloc, Juncker's remarks echoed similar comments made Thursday by German Chancellor Angela Merkel and Dutch Finance Minister Jeroen Dijsselbloem. The interventions came as Cameron, who makes an hour-long television campaign appearance Thursday night, is trying to regain the initiative after polls in recent days suggested a swing to the "Leave" campaign.
Before it's here, it's on the Bloomberg Terminal.
LEARN MORE