Bank of England Unveils First Plastic Note Featuring Churchill
by and
Governor Mark Carney promoted new fiver at Blenheim Palace

Central bank is in a self-imposed purdah before EU referendum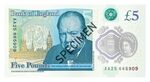 The Bank of England unveiled the full design of its first plastic banknote Thursday, featuring U.K. wartime leader Winston Churchill.
"Polymer marks a major innovation. It is cleaner, safer, and stronger," Governor Mark Carney said at Blenheim Palace, Churchill's birthplace in Oxfordshire, England. "Polymer notes can survive a splash of claret, a flick of cigar ash, the nip of a bulldog, and even a spin in the washing machine afterwards to boot."

The five-pound notes, worth about $7, will be issued on Sept. 13 and are the central bank's first foray into printing on polymer. They will be followed by a 10-pound bill featuring writer Jane Austen next year and a 20-pound note with painter J.M.W. Turner by 2020. The new notes are more secure and last for at least 2 1/2 times longer than paper notes, the BOE said.
The governor, now in a self-imposed purdah before the U.K.'s June 23 European Union referendum, is visiting Oxfordshire to promote the bill. He batted away a question about how Churchill, who's been cited by both sides in the debate, might have viewed the vote. 
"It's not for me to make any inference about that," Carney said.
Phased Out
"Churchill's contributions extend beyond his pivotal roles in the nation's martial and political histories," the governor said. "Central bank forecasters can identify closely with his advice that, 'it is much better policy to prophesy after the event has already taken place'."
The paper fiver, featuring prison reformer Elizabeth Fry, will cease to be legal tender in May 2017, after which they will have to be exchanged at the central bank. About 20 countries already use polymer for their banknotes including Australia, New Zealand and Carney's native Canada.
The governor said the bill design would pay homage to Churchill's leadership of Britain through World War II.
"The 'bulldog spirit' of those years was embodied and emboldened by Winston Churchill," Carney said. "This spirit is just one of his many contributions that the bank commemorates with the new fiver."
Before it's here, it's on the Bloomberg Terminal.
LEARN MORE