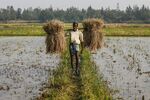 India's farmers aren't going anywhere just yet. 
The world's second-most-populous nation is shifting away from agriculture at a much slower pace than the government predicted at the turn of the decade, a new study shows. By 2022, the motor vehicle, textile and food processing industries will employ fewer people than originally projected; agriculture, by contrast, will have 102 million more. That affects everything from growth to urbanization to female empowerment, according to Akhilesh Tilotia, author of the report. 

Tilotia, an economist at Mumbai-based Kotak Institutional Equities, reviewed 24 industry-specific reports commissioned by the National Skill Development Corporation, a public-private body that helps fund vocational training. He tallied up the job predictions for 2022 and compared them with forecasts in comparable reports assembled under the previous government, about six years ago. 
The findings paint a bleak picture for Asia's third-largest economy, where Prime Minister Narendra Modi swept to power two years ago promising to create enough jobs to employ the country's burgeoning youth. Almost 40 percent of the working population will still make a living from agriculture , contributing less than 10 percent to gross domestic product. Out of 1.3 billion Indians, only 575 million will be employed, 79 million fewer than previously estimated.
 "India's consumption story is predicated upon the millennial and post-millennial demographic performing productive, paying jobs," Tilotia said. "The pace of transition is not encouraging."
The  lower jobs forecast is also bad news for women, who already account for a smaller share of the work force than in other large emerging markets. Urbanization is also set to remain slow and land acquisition tricky, according to Tilotia, who has written a book on the impact of Indian demographics.  

The most concerning aspect is that even these predictions could prove optimistic. While labor data in India are scarce and partial, a quarterly survey of eight sectors suggests job creation is trailing the numbers expected in Tilotia's report. The industries, which include textiles, transport and metals, added 700,000 jobs in the two years through September 2015. The skill corporation's reports are premised upon 3.6 million jobs being added every year in six of the eight industries alone, he said.
That's a palpable concern for voters.  While Modi's personal approval rating remains high, his biggest failure so far has been an inability to create enough jobs, according to an opinion poll published last week.
Before it's here, it's on the Bloomberg Terminal.
LEARN MORE