High Roller in Mickelson Case Can't Fly His Private Jet at Will After All
by and
Sports-bettor allegedly made $43 million on insider stock tips

Walters faces 8 to 10-year sentence on most serious charge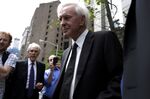 Legendary gambler Billy Walters won't get to jet around on his private plane or ease his pain with medical marijuana as he waits for trial on insider-trading charges.
Walters had further restrictions placed on him by a judge after initial bail conditions allowed him to fly anywhere in the continental U.S. aboard his private plane. He was also ordered to post a $25 million bond, to be secured by $10 million in cash or property, after he pleaded not guilty in New York Wednesday.
Walters is on his own fighting the insider-trading charges after his alleged source, Dean Foods Co. Chairman Tom Davis, agreed to cooperate with prosecutors. He made $43 million over six years in illicit profits and avoided losses, according to authorities. Professional golfer Phil Mickelson, who also traded on the information, wasn't charged but agreed to return the proceeds.
In a case that features the workings of the old-boy network in board rooms and on putting greens, Walters was accused of trading on secrets provided by Davis, his longtime friend and golfing buddy. Davis pleaded guilty to insider-trading charges on May 16. Walters offered business opportunities, investment capital and loans totaling almost $1 million to Davis for the information, authorities said. Walters never asked Davis to repay the loans, and Davis admitted he never fully repaid Walters, federal prosecutors said.
For a graphical depiction of the federal government's fight against insider trading, click here.
Walters, 69, faces 10 counts, including conspiracy, securities fraud and wire fraud. Assistant U.S. Attorney Brooke Cucinella said in court that Walters could be sentenced from eight to 10 years. The government could also seek millions of dollars in fines if he's convicted.
Cucinella argued for strict bail terms including a ban on the use of the plane. She told the judge that Walters has a net worth of more than $200 million, with an annual income of $30 million. He could easily bribe pilots to fly him out of the country if he wished, she said.
"This is not your average defendant," she told U.S. Magistrate Judge Andrew Peck.
Peck agreed that Walters could fly in his private plane anywhere he wanted in the lower 48 states. Two hours later, U.S. District Judge Kevin Castel overruled Peck, saying Walters can travel to the six states where he owns businesses, but only with the approval of court officials who also decide whether he flies on commercial planes or in his jet.
Barry Berke, Walters's lawyer, said his client would agree not to use a prescription for medical marijuana, obtained legally in California, for the duration of the case.
According to a transcript of his guilty plea, Davis said Walters gave him a burner mobile phone to use in their scheme and that he threw it into a creek near his Dallas home in 2014 to derail agents from the Federal Bureau of Investigation. Davis said he lied to agents about passing Walters inside tips and again when questioned under oath by the U.S. Securities and Exchange Commission.
Walters, a well-known Las Vegas gambler, met Davis on the golf course and became friends in the 1990s, according to the U.S. The friendship was "based on a shared interest in gambling, business, sports and golf," Diego Rodriguez, head of the FBI's New York office, said on May 19 when the charges were announced.
He also passed information to Mickelson, who made almost $1 million from his trades, the SEC said.
Walters reaped enormous profits after placing unusually large bets on Dean Foods on at least 10 occasions, prosecutors said. In April 2010, after Walters arranged for Davis to get a $625,000 loan, Davis leaked Walters news about Dean Foods, and the gambler purchased 1.5 million shares of Dean Foods stock, the U.S. said. 
Walters later dumped all his shares after Davis alerted him the company would miss Wall Street's expectations, allowing Walters to avoid $7.3 million in losses. His selloff was so sizable and anomalous during a two-day period that it accounted for as much as 29 percent of Dean Foods' entire trading volume on one day, the U.S. said.
"With a direct channel into Dean Foods's boardroom, Walters placed enormous bets on the company's stock," Manhattan U.S. Attorney Preet Bharara said on May 19. "But as described in the indictment, these bets were no gamble at all, they were a sure bet."
The case is U.S. v. Walters, 16-cr-00338, U.S. District Court, Southern District of New York (Manhattan).
Before it's here, it's on the Bloomberg Terminal.
LEARN MORE