This Is How a Banker in Brooklyn Makes Money on Millennials
What's Ken Mahon doing in Williamsburg? Beating rivals' savings rates and lending against massive rents.
by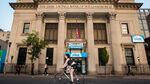 Kenneth Mahon is not a hipster. He's a 65-year-old bank president.
Still, Mahon can be found every day in the Brooklyn neighborhood that has become the East Coast's epicenter of hipster style and fashion, at the Dime Savings Bank of Williamsburgh. And he's pretty sure he knows how to talk to the millennials padding around outside in their yoga pants and Vans.
He talks to them in dollars and cents.
"It can be terrible for a company to try to act hip," Mahon said. "We're bankers. You don't want to overplay your hand."
So Dime lures deposits from Brooklyn—and from all over the country—by offering a money market account with an annual yield of 1.1 percent. Bankrate.com, which collects rate data, lists only two banks in the U.S. that offer more, at 1.11 percent. These days, anything close to 1 percent qualifies as wildly generous. 1 Since the financial crisis, U.S. banks have been paying customers practically nothing for the privilege of making money on their cash. The average U.S. bank savings account pays an interest rate of 0.06 percent a year, according to the Federal Deposit Insurance Corporation. Blame the Federal Reserve for keeping rates low to spur the economy, or simply the fact that most banks are awash in deposits, far more than they need.  
Stocks and bonds offer the chance for greater rewards—your money might actually keep up with inflation, for example—but involve risk. The Federal Deposit Insurance Corporation protects depositors from bank failures by insuring each account for at least $250,000. That makes a high-yielding savings account useful as an emergency fund. Dime's first motto, now 152 years old: "In times of prosperity, save for adversity."
The banks paying 1 percent or more are a motley crew of community institutions, online banks, and even Goldman Sachs Group, each with unique reasons for their largesse. 2 Online banks such as Ally Bank, currently offering a 1 percent yield, don't build branches or hire tellers, and they pass some of the savings on to customers. Goldman Sachs recently launched an online bank, GS Bank, now paying 1.05 percent, to help comply with new post-crisis liquidity rules. Regulators want the investment bank to hold on to consumer deposits, judging them safer than other kinds of short-term financing.  Dime needs the deposits to fill a booming local niche. It lends to owners of apartment buildings spread out across New York's five boroughs. Instead of obtaining a mortgage, landlords put up their buildings' rents as collateral. By refinancing, they can convert rising property values into cash.  
It's practically the only kind of lending the bank does, and its staff has become expert at it. Before helping a landlord buy or refinance, Dime must decide on the prospects for a building and its surrounding neighborhood. That's where Dime's local roots come in, said Mahon, a 36-year veteran at the bank. His 74-year-old boss, Chairman and Chief Executive Officer Vincent Palagiano, has been there for 46.

In a borough obsessed with the local and the authentic, the Dime Savings Bank of Williamsburgh delivers both. (The "h" dates back to the bank's founding in 1864.) While almost all its local 19th-century rivals are gone, Dime is still there, headquartered in a limestone building at the foot of the Williamsburg Bridge.
As of March, the bank, whose parent company, Dime Community Bancshares, has been publicly traded since 1996, had $5.5 billion in assets, up by $1 billion since the end of 2014. JPMorgan Chase & Co., the nation's largest bank, is 439 times as big as Dime, with assets of $2.4 trillion.
Lending on apartment buildings used to be a tougher business. One in 10 New Yorkers left the city during the 1970s, and those who remained faced a surging crime rate. City neighborhoods were deteriorating. Mahon would sometimes arrive at the bank on a Monday to find burned-out cars smoldering on the corner. 
Now the city's 8.6 million residents face a housing shortage. The value of apartment buildings has soared, and owners have a steady stream of rent checks to borrow against. Dime lent out $1.3 billion last year, up 37 percent from 2014. It continued to step up real estate lending this year, originating $377 million in loans in the first quarter. 
To keep up with the demand, Dime needs deposits, and the customers at its 25 New York-area branches have only so much cash to save. Plus, it's difficult for any bank to win new clients, said Collyn Gilbert, an analyst with Keefe, Bruyette & Woods Inc. Changing banks can be a hassle. "To get deposits in the door, you really need to pay up for them," Gilbert said.
Last year, Dime began touting its 1.1 percent rate on money market deposits, using banner ads, Bankrate, and other websites. Online customers came from all over the U.S., especially the Northeast, California, and Florida. Since the beginning of 2015, the bank's deposits are up 30 percent, or $814 million, with most of the new cash in money market accounts. In the last quarter alone, Dime took in $305 million in deposits.
Mahon said customers far from Brooklyn seem to connect with the brand, perhaps because several other community banks also called themselves "dime" banks in the 19th and 20th centuries. "Whether they know the bank or not, the name seems familiar to them," he said.
But he wants off-line deposits, too, to fuel the bank's growth. That's why Dime is going after its young neighbors, offering free checking, too, which many prize even more than savings account yield.

Most of Dime's branches are in more family-oriented parts of New York boroughs Brooklyn and Queens and farther out on Long Island, distant from vintage boutiques and vegan restaurants. The bank is opening at least three new bank branches in hipper parts of Brooklyn, one in affluent Park Slope and two in Williamsburg's busiest section.
The new branch at Williamsburg's Bedford Avenue will look more like a coffee shop than a bank, with big doors opening onto the sidewalk, welcoming pedestrians to stop in and charge their phones. Light fixtures made from mason jars will illuminate the coffee counter. The goal is to appeal to the neighborhood's young, new residents in a way that Dime's 1908 headquarters does not.
For millennials, Mahon said, "It's a little bit of an obstacle to come into a big limestone building."
Beyond that, he doesn't try to characterize the generation. "We tend to oversimplify young people as one homogenous group," Mahon said. Some just need a place to manage their finances and minimize fees. He tells them that community banks now offer many of the same technologies, such as online bill-paying, that the big banks do.
There are also millennials in the neighborhood with trust funds, generous parents, or starter jobs with good wages in high tech, and they already have some cash. Once you have substantial savings, an account with a 1.1 percent rate starts producing real money every year.
The new branches are an experiment. Mahon hopes the generation's enthusiasm for eating and shopping locally will translate into a desire to bank locally, too. It's a subject near and dear to his heart. For Dime's 150th anniversary, he helped edit a 108-page coffee table book, The Last Bank Standing. By staying independent and Brooklyn-based, the book says, Dime has outlasted many rivals. Iconic bank branches for the Williamsburgh Savings Bank, the South Brooklyn Savings Institution, and the Dime Savings Bank of Brooklyn are now, respectively, luxury condos, a Trader Joe's, and the possible site of Brooklyn's first 1,000-foot-tall building.
Mahon, who lives in suburban New Jersey, recently got an apartment in a former pencil factory seven blocks from headquarters. "I'm the only one with gray hair in the building," he said. He is struck by the speed of  the neighborhood's transformation: "You can't go a block without seeing a crane or cement truck."
The same real estate boom fueling Dime's growth is disrupting the bank's old-school ways. Dime decided this year to sell its parking lots and office space in Williamsburg to a developer for a cool $80 million.
"It's a genius move," said Gilbert, the KBW analyst. "Property values are at a peak, and they want to take advantage of it."
The sale will uproot the 150 or so employees at headquarters, a trio of one- and two-story buildings from different eras stretching down the block. The plan is to relocate everyone to office space in downtown Brooklyn, where they can work on one floor.
"I feel sentimental about it," Mahon said. "But that's how things change."
Watch Next: Millennials, Don't Worry. You'll Be Able to Retire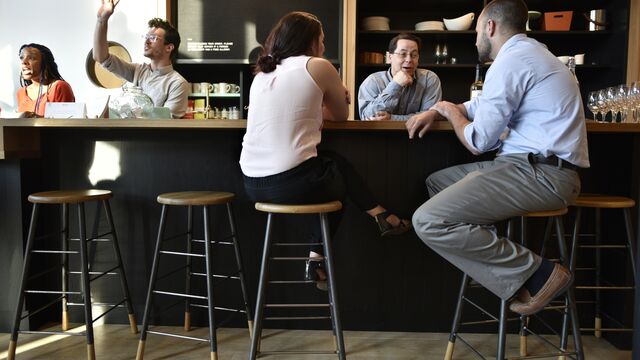 Before it's here, it's on the Bloomberg Terminal.
LEARN MORE