Temer Blunders Are Rousseff's Hope Back to Brazil Presidency
by
Rousseff's defense uses audio of Temer allies discussing probe

Soccer star turned Senator Romario criticizes Temer government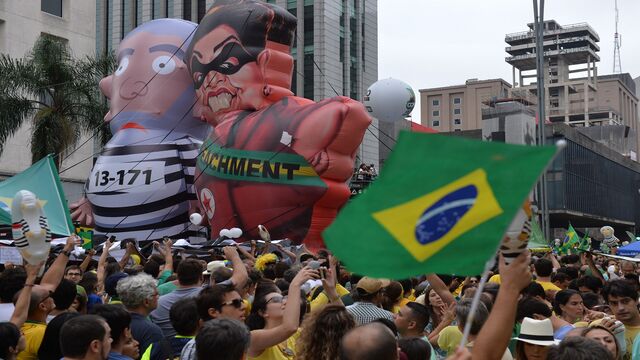 When Dilma Rousseff stood down as Brazil's president last month to face an impeachment trial, it looked all but certain she wouldn't come back. Yet a series of setbacks for her interim replacement, Michel Temer, may win her the few votes she needs to return to office.
In less than a month, Temer lost two ministers over recordings suggesting they sought to interfere in a corruption probe, was criticized for appointing a cabinet without women and had to backtrack on scaling down the Ministry of Culture. All that plays into Rousseff's thesis that Temer wants to downsize government and oust her to protect his allies from the graft probe.
The defense that Rousseff's lawyers filed with the Senate Impeachment Committee on Wednesday began with a transcript of the recordings of Romero Juca, Temer's former planning minister, who stepped down last week. The document claims that impeachment is part of a plot to obstruct the investigation of corruption and other crimes.
The recordings prove "there was political strategy, plotted and articulated by several important political leaders in the country," the document said. "The objective was to carry out, at any cost, the impeachment of President Dilma Rousseff."
This argument may resonate with some undecided legislators, and future allegations remain a risk for Temer's Brazilian Democratic Movement party, known as PMDB. While Rousseff's ouster is still likely, the result is not a foregone conclusion, according to Matthew Taylor, a professor at American University and author of several books on Brazil.

"The chances of the trial ending in a conviction are very high," Taylor said. "But with every Temer ally or member of the PMDB who is impugned by either recordings or Carwash itself, that equation becomes a little less stable."
'Still Undecided'
To return to the presidential palace, Rousseff would need to win back only two of the 55 senators that voted in favor of the trial last month for her opponents to fall short of the necessary two-thirds majority. The Senate impeachment committee meets Thursday to discuss a proposed timeline for her trial, with a final vote expected for August.
Former soccer star Romario Faria, now a Senator who in May voted in favor of putting Rousseff on trial, said he would give up his spot on the impeachment committee. In a post on his Facebook page, he criticized Temer for appointing ministers under investigation for corruption, rather than the cabinet of "notable" names that was initially promised.
"The first days of the interim government were not like they should have been," Faria said. In the final impeachment vote, "I will be guided by my conscience, seeking the best for Brazil."
Other Senators who cast their vote last month in favor of opening the impeachment trial now say they haven't yet made a decision on Rousseff's definitive ouster. Many of them, including Cristovam Buarque of the Popular Socialist Party, also express dissatisfaction with the first steps of Temer's administration.
"I voted in favor of impeachment and that vote is done, so now we have to await the trial," Buarque said in an interview in the Senate. "I won't say how I'll vote because I'm still undecided."
Buarque said he supports a constitutional amendment to hold new elections, even though he recognizes that the possibility is still remote. Senator Randolfe Rodrigues said the early scandals of Temer's administration have helped build more support for his proposal to hold new elections.
The political turmoil and the ongoing corruption probe that soured what was supposed to be Temer's honeymoon have diminished initial investor excitement for the 75-year-old constitutional lawyer. Brazil's Ibovespa was the world's worst performer in May, after the third-biggest rally in the first four months of the year.
The risk from the Carwash corruption investigation that helped fuel calls for Rousseff's impeachment, now threatens to bring down Temer's government, according to Oscar Vilhena, director of the law school at the Getulio Vargas Foundation in Sao Paulo.
"Temer's position is not exactly secure," Vilhena said in an interview.
Before it's here, it's on the Bloomberg Terminal.
LEARN MORE