SoftBank Said to Plan More Asset Sales to Bolster Finances
by and
Technology company may divest more assets to raise cash

Nikesh Arora leading efforts to improve company's finances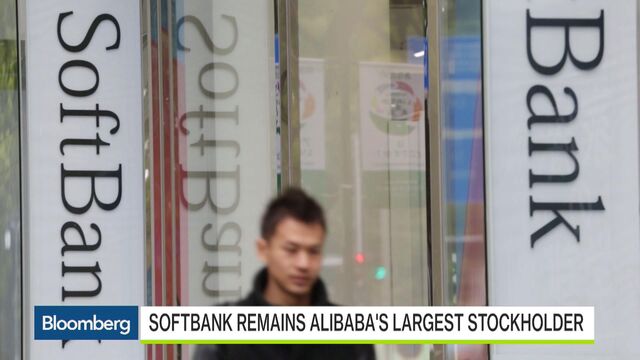 SoftBank Group Corp.'s decision to sell stock in Alibaba Group Holding Ltd. is part of a broader plan that will probably include further asset sales as it seeks to strengthen its finances, according to a person familiar with the matter.
President Nikesh Arora is spearheading the move to re-examine the technology company's portfolio, including Wednesday's decision to sell at least $7.9 billion of its stake in Chinese e-commerce giant Alibaba, said the person, who asked not to be identified because the details are private. SoftBank has decided that games aren't a core part of its business, and may consider a sale of its stake in Japan's GungHo Online Entertainment Inc., the person said. SoftBank is already in talks to shed its investment in Finnish game-maker Supercell Oy, people familiar with the matter have said.
Founder Masayoshi Son has split SoftBank into domestic and overseas units, entrusting Arora with operations abroad and the search for the next Alibaba. Son started his investment in Alibaba with $20 million in 2000 and now owns 32 percent of the Chinese company, although that will decline to 28 percent following the share sale. Arora, a former Google executive, is balancing SoftBank's spending on growth with its 11.9 trillion yen ($108 billion) in debt.
"Nikesh seems to be following up on the promise of portfolio re-balancing, with a focus to unlock value, and this is just the beginning of what they can do," said Atul Goyal, an analyst at Jefferies Group. "This helps remind investors the value of the stakes they own, which at times have been written off as worthless by a section of investors."
Shares of GungHo fell 3.7 percent to 310 yen at Wednesday's close in Tokyo. SoftBank's stock rose less than 1 percent to 6,252 yen, leaving it up 1.8 percent this year. The price of SoftBank's 10-year, 4.75 percent coupon bonds due 2025 jumped 0.8 percent to their highest since they were issued in July.
The Supercell sale could value the Finnish company at more than $5 billion, which would translate into roughly $3.7 billion for SoftBank's 73 percent stake. SoftBank acquired a majority holding in the Helsinki-based company for about $1.5 billion in 2013, and raised its ownership a year ago. SoftBank's 26 percent holding in GungHo, the maker of the smartphone game Puzzle & Dragons, is worth 84 billion yen.
SoftBank has plenty of other holdings in listed companies totaling almost 10 trillion yen. That includes 1.22 trillion yen of Yahoo Japan Corp.'s stock and a 33 billion yen stake in China's Renren Inc. SoftBank's shares in money-losing Sprint Corp. are worth about 1.4 trillion yen, roughly 600 billion yen less than what the Japanese company paid for the U.S. carrier in 2013.
"Sprint will remain an issue, but the portfolio value should become a meaningful driver, now that they are monetizing the gains," Jefferies' Goyal said. "This goes on to validate that SoftBank will not only invest, but when the time comes SoftBank will also book profits."
Analysts at Goldman Sachs Group Inc., Nomura Holdings Inc. and Mitsubishi UFJ Morgan Stanley Securities Co. cheered SoftBank's move to trim its Alibaba holding. The sale was a "surprise" and shows the company is prepared to exit "even core stocks" in its portfolio, Goldman Sachs's Tokyo-based analyst Ikuo Matsuhashi wrote in a report.
The transaction will reduce SoftBank's ratio of net debt to earnings before interest, taxes, depreciation and amortization to 3.3 times, from 3.8 at the end of March, the company said. A lower number means that a business is better positioned to pay down its debt. SoftBank's net debt-to-EBITDA ratio was below 2 three years ago.
Moody's Investors Service said in a statement it wants to make sure that any newly raised funds are used to cut debt. Motoki Yanase, an analyst at the ratings agency, said the Alibaba stake sale won't immediately affect SoftBank's ratings, which are currently at one level below investment grade.
SoftBank's net debt was at a record 9.35 trillion yen as of March 31, four times the amount before the $22 billion Sprint acquisition. The company sold more than $8 billion in corporate bonds last fiscal year. That included $1 billion in dollar bonds paying a coupon of 6 percent. SoftBank also announced in February it will spend as much as 500 billion yen buying back more than 14 percent of its stock.
Cashing in on earlier, successful investments may also help SoftBank close the $22 billion gap between the company's market value and the worth of its listed shareholdings.
"SoftBank gets to strengthen its financial standing while still maintaining the relationship with Alibaba as an equity method affiliate," said Tomoaki Kawasaki, an analyst at Iwai Cosmo Securities Co. "The company is in the midst of a portfolio reshuffle."
Before it's here, it's on the Bloomberg Terminal.
LEARN MORE