Five Things You Need to Know to Start Your Day
Get caught up on what's moving markets.
by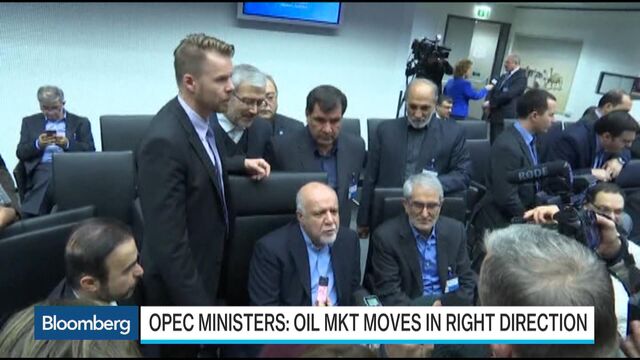 Want to receive this post in your inbox every morning? Sign up here
It's a big day for manufacturing data, the OECD blasts governments on global growth and OPEC ministers are happy with the oil market's direction. Here are some of the things people in markets are talking about today.
OECD's global 'low-growth trap'
The Organisation for Economic Cooperation and Development has warned that the global economy is slipping into a self-fulfilling 'low-growth trap' where loose monetary policy is doing more harm than good. Saying the economic recovery will not pick up this year, the organization put the blame squarely at the door of rich governments who have failed to revive demand in the wake of the 2008 financial crisis. They also cut their economic forecast for the U.K. economy, saying uncertainty caused by the Brexit referendum has already undermined growth there.
OPEC ministers less unhappy
Members of the Organization of Petroleum Exporting Countries gathering in Vienna for the group's biannual meeting are happy with the direction the oil market is taking at the moment. The strategy of letting low oil prices eradicate surplus production is working, according to ministers from the United Arab Emirates and Nigeria. The meeting, which kicks off tomorrow, is not expected to produce any new oil production caps, while some question the efficacy of the once-powerful organization in a shale-oil world. In the oil market, West Texas Intermediate for July delivery was slipping this morning, trading at $48.32 a barrel at 6:00 a.m. ET. 
PMI day
China's official manufacturing purchasing managers index stood at 50.1 in May, matching April's number and signifying a stabilization in world's second-largest economy. In the euro-area a Purchasing Managers Index slipped to 51.5 in May, according to Markit Economics, a reading in line with an earlier estimate.  U.K manufacturing remained subdued, with PMI rising to 50.1, beating expectations, but again pointing to only the slightest growth. Markit US manufacturing PMI is due out at 9:45 a.m. ET, with ISM manufacturing data at 10:00 a.m. this morning.
Markets are lower
Stocks in Asia fell overnight with the MSCI Asia Pacific Index dropping 0.3 percent, while Japan's Topix index fell 1.3 percent on a stronger yen following Prime Minister Shinzo Abe confirming that the proposed sales-tax increase is to be postponed until 2019. In Europe, the Stoxx 600 Index was 0.9 percent lower at 6:12 a.m. ET as investors await tomorrow's ECB meeting and Friday's U.S. jobs data for indications on the direction of monetary policy. S&P 500 futures were down 0.3 percent. 
Independent presidential candidate, and Brexit risk rises
Bill Kristol, the conservative editor of the Weekly Standard, is floating David French, an Iraq war veteran and constitutional lawyer, as an independent presidential candidate to challenge Donald Trump and Hillary Clinton in November's vote, according to people familiar with the situation. On the other side of the Atlantic, the British pound was hit after two polls were published showing a lead for the 'exit' side in the referendum on EU membership. 
What we've been reading 
This is what's caught our eye over the last 24 hours.
Before it's here, it's on the Bloomberg Terminal.
LEARN MORE