business
OECD Cuts U.K. Economic Forecast as Brexit Warnings Renewed
By
Exit from EU would cause series of 'financial-market shocks'

OECD says referendum uncertainty has harmed U.K. growth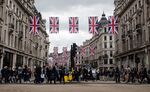 The Organization for Economic Cooperation and Development cut its U.K. growth forecast and repeated its warnings about the economic damage a vote to leave the European Union would cause.
The OECD's latest intervention in the intense U.K. political debate echoes its warnings in an April report, when it was criticized by pro-Brexit campaigners. The Paris-based group said on Wednesday that uncertainty surrounding the June 23 referendum has already undermined growth and cut its 2016 forecast to 1.7 percent from 2.1 percent.
"The outcome of the referendum is a major risk for the economy," the OECD said in its Economic Outlook. "A vote for Brexit would heighten uncertainty, raise the cost of finance and hamper investment."
A separate report published by Markit on Wednesday showed U.K. manufacturing unexpectedly returned to growth in May, though the pace was subdued. While the Purchasing Managers Index rose to 50.1 from 49.4 in April, it's still only just above the 50 line that divides expansion from contraction, adding to the nation's lackluster economic picture.
According to OECD estimates on the impact of Brexit, U.K. economic growth could be lower by 0.5 percentage point in 2017 and 2018 and by 1.5 percentage points in 2019. It also warned that the U.K. could find it harder to finance its record current-account deficit.
The organization sees potential spillovers to other European countries, with the shock felt the most in Ireland, Luxembourg and the Netherlands, all of which have high exposures to the U.K. in terms of trade and investment.
The impact would be greater if a vote to quit the EU undermined confidence in the future of the EU. In that scenario, the OECD says equity prices would drop further and risk premia on bonds would rise more. This would add to pressures on private and public finances and potentially compound political tensions in the EU.
(
Updates with PMI data in fourth paragraph.
)
Before it's here, it's on the Bloomberg Terminal.
LEARN MORE