National Bank Pausing on Global Acquisitions to Build Capital
by
Montreal-based lender to work on integrating Cambodia bank

CEO Vachon says priority is increasing capital ratio to 10%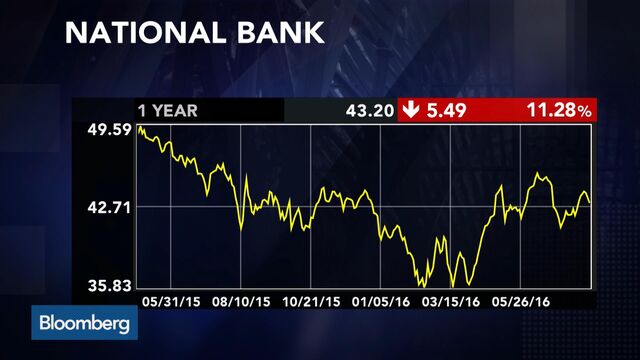 National Bank of Canada, which acquired a controlling stake in a Cambodian lender last month, will take a yearlong break from further international deals to build up capital, Chief Executive Officer Louis Vachon said.
"The priority right now is increasing our capital above 10 percent," Vachon, 53, said Wednesday in a conference call with analysts after reporting fiscal second-quarter results. "Everybody is looking to optimize the balance sheet, and that's what we're doing."
National Bank has struggled to reach a 10 percent Common Equity Tier 1 Capital ratio after making four international purchases, as well as writing down a stake in Maple Financial Group Inc. last year. The lender, whose capital ratio was 9.8 percent at the end of April, should reach that target by the end of fiscal 2017 at the latest, Vachon said.
National Bank paid $103 million in May to boost its ownership in Cambodia's Advanced Bank of Asia Ltd. to 90 percent, almost two years after making an initial investment, the Montreal-based lender said. The transaction marked the first time it's taken majority operating control of a bank outside of North America.
National Bank of Canada profit falls 48 percent on soured energy loans
In the past two years, National Bank also has bought minority stakes in AfrAsia Bank Ltd. of Mauritius, Cote d'Ivoire financial group NSIA Participations, and the holding company that controls XacBank LLC in Mongolia. Vachon said he isn't planning to add to those positions in the near term.
"We do not expect any new significant strategic international investments within the next 12 months as the focus will be on consolidating existing operations," Vachon said on the call. "We're still in the get-to-know phase of these investments. That's why we're quite comfortable taking a 12-month pause."
Before it's here, it's on the Bloomberg Terminal.
LEARN MORE