National Bank of Canada Profit Falls 48% on Bad Energy Loans
by
Provision for energy leads to loss within banking business

Laurentian shares climb as profit beats analysts' estimates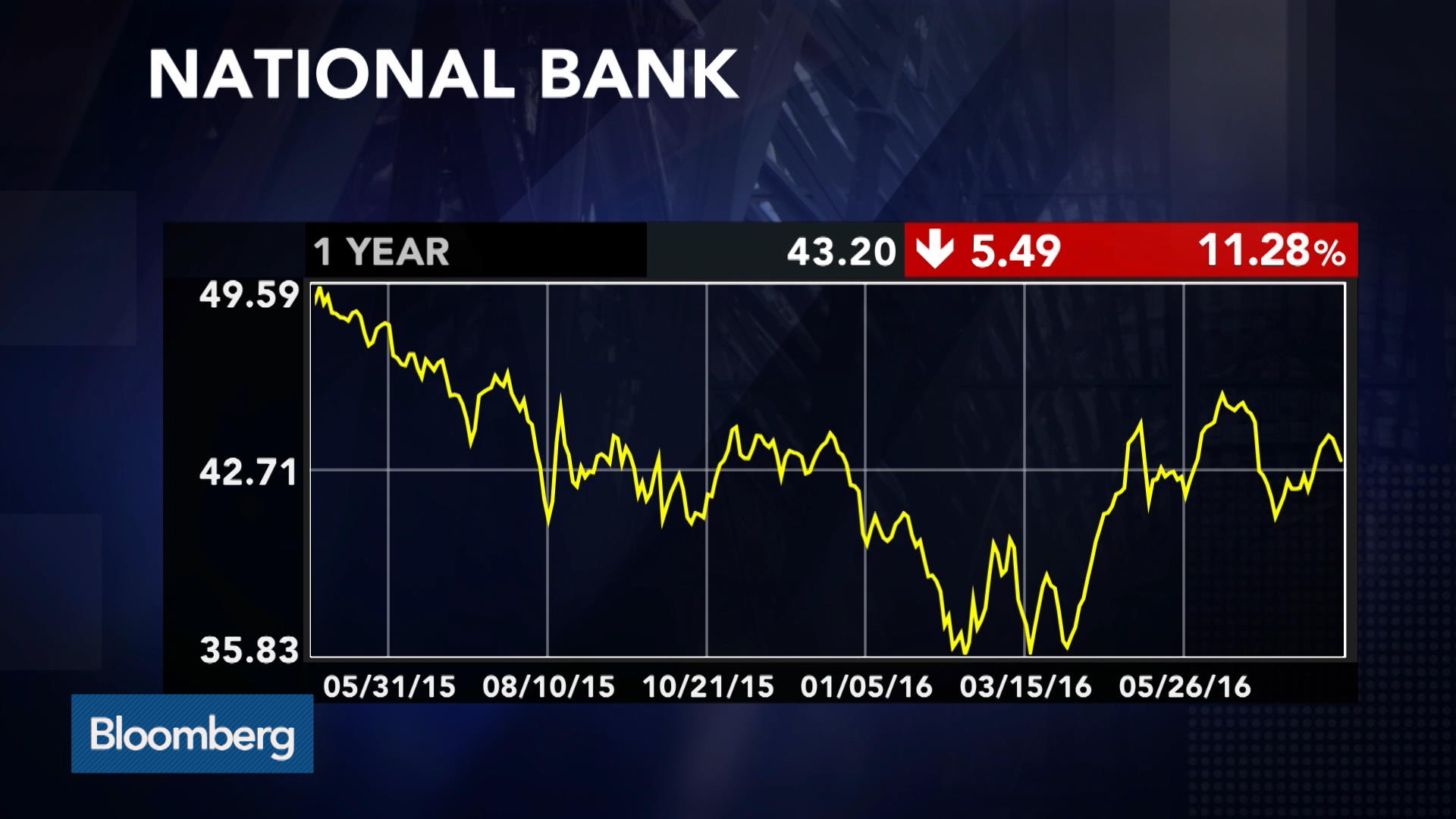 National Bank of Canada said fiscal second-quarter profit fell 48 percent after setting aside more money to cover soured energy loans. The lender raised its quarterly dividend 1.9 percent to 55 cents a share.
Net income for the period ended April 30 dropped to C$210 million ($161 million), or 52 cents a share, from C$404 million, or C$1.13, a year earlier, the Montreal-based firm said Wednesday in a statement. Profit excluding some items was 60 cents a share, matching the average estimate of eight analysts surveyed by Bloomberg.
"These results have an anti-climactic feel to them," said Robert Sedran, an analyst with CIBC World Markets. "Credit quality is still an issue we will be watching closely."
National Bank shares fell 2.3 percent to C$42.56 at 9:43 a.m. in Toronto, the most intraday since May 3, paring this year's gain to 5.7 percent.
Earnings were hurt by a previously announced C$183 million pretax provision taken for producers and services companies in the oil and gas industry. The provision led to a loss at the bank's personal and commercial business. Loan-loss provisions jumped five-fold to C$317 million.
"The credit quality of the overall loan portfolio, excluding the oil and gas producer and service company loan portfolio, remains within expectations," Chief Executive Officer Louis Vachon said in the statement.
Wealth Management
Wealth-management earnings fell 22 percent to C$80 million from a year earlier when the bank had a gain from selling shares of Fiera Capital Corp., according to the statement. Net income for the financial markets unit climbed 7 percent to C$169 million, while personal and commercial banking posted a C$9 million loss.
National Bank had C$2.93 billion of oil-and-gas loans in the second quarter, down from C$3.2 billion in the first and C$3.73 billion a year earlier, according to financial disclosures. Impaired oil-and-gas loans were C$178 million, up from C$91 million at the end of January and C$48 million a year earlier.
Separately, Ricardo Pascoe was named to the new role of chief transformation officer, the bank said. Pascoe's current role of executive vice president of financial markets will be filled by Denis Girouard, who's currently deputy head.
Laurentian Bank of Canada posted an 11 percent jump in profit that beat analysts' estimates. Net income in the quarter rose to C$45.7 million, or C$1.43 a share, from C$41.2 million, or C$1.34, a year earlier. The Montreal-based lender said adjusted profit was C$1.46 a share, beating the C$1.37 average estimate of nine analysts surveyed by Bloomberg. The bank boosted its quarterly dividend 3.4 percent to 60 cents a share.
Laurentian shares climbed 0.8 percent to C$50.89 and have advanced 5.3 percent this year.
Before it's here, it's on the Bloomberg Terminal.
LEARN MORE