U.K. Referendum Breeds Investment Uncertainty, Gramegna Says
Caroline Hyde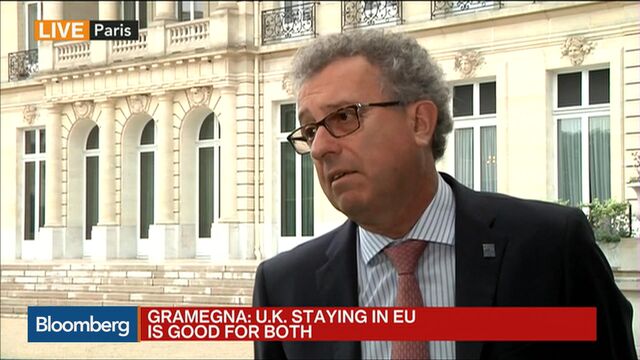 This month's referendum on membership in the European Union is causing "uncertainty" over investment decisions, Luxembourg Finance Minister Pierre Gramegna said.
"Some decisions on investment have been postponed," Gramegna said in an interview with Bloomberg Television on Wednesday. "So it's good that the referendum will happen in a couple of weeks to take out this uncertainty."
Gramegna also said it is "better" to have London's financial center in the EU.
"The most important thing is that we have the U.K. inside the EU because its financial center -- it's the largest in the world with New York -- and we better have it inside the EU than outside," Gramegna said.
"And our financial center is working very closely with London. We're more complementary than competitors, so I really wish them in," he said.
"I really hope that the 'Remain' campaign will win because staying in the European Union is good for the U.K. and is good for Europe," Gramegna said.
Before it's here, it's on the Bloomberg Terminal.
LEARN MORE