Luxury Travel
Summer Like a Vanderbilt in a $15,000-a-Night Great Camp
By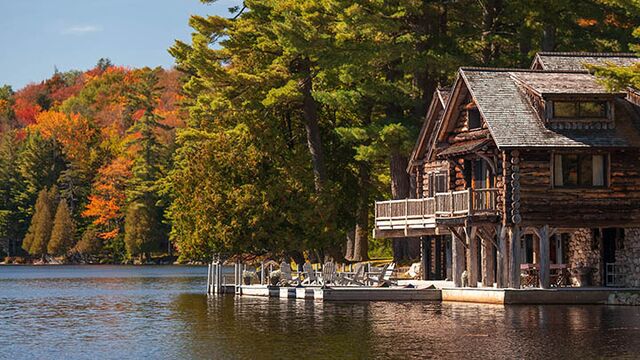 Camping trips are many things to many people, though it's a safe bet that Lake Kora's version of camping is not the one you grew up with. This 1,000-acre property is one of the last remaining Great Camps in the Adirondacks. Developed in 1897 by Timothy Woodruff, then lieutenant governor of New York, it joined compounds owned by the Morgans, Vanderbilts, and cereal magnate Marjorie Merriweather Post in the wilds of Upstate New York. While these were, in fact, mansions with sticks attached to their exteriors (you think we're joking, but we're not), the habit of referring to them credulously as "camps" has endured.

A few are still in private hands. Lake Kora, which has been owned by just five families in its century-long history, was briefly purchased by Alfred Gwynne Vanderbilt following original developer Woodruff's death; Vanderbilt, whose own camp was adjacent to the property, had the misfortune of dying on the S.S. Lusitania just two years after the purchase, at which point it was sold to a New York district attorney. In 2005 it was purchased by New Zealand businessman Mark Palmer, who made it available for rent; the going rate is $14,950 a night for 14 people, with a four-night minimum. After those first 14 guests, it's an extra $600 a head per night; the camp can accommodate a maximum of 22 people. 

What will that get you?
Fifteen bedrooms and 14 baths spread across eight buildings. The property has a "play house"—a sprawling building that houses an all-wooden bowling alley, a squash court, ping pong tables, and a full commercial kitchen. Elsewhere on the property is a tennis court, a two-story spa (in what was formerly the Ice and Meat House), an outdoor roller rink, and a boathouse on the camp's private, 500-acre lake. There are sailboats, canoes, motorboats and various other pleasure craft on which to enjoy the water. In the middle of the lake is an island with a whimsical, two-bedroom house, perfect for honeymooners or particularly sullen teenagers.

Apropos of honeymoons, the property comes with a stone chapel. And in a nod to the fact that whoever is renting the property probably had to make vast sums of money in order to do so comfortably, the camp's (former) powerhouse has been converted into a series of small meeting and board rooms. The camp has wireless internet and cell signals, though signal strength and speeds aren't exactly record-setting, according to the camp's spokesperson, Arlene Winnick. There's also a library stocked with first-edition volumes.

In a further departure from the traditional camping experience, Lake Kora comes with a full staff, including a gourmet chef, general manager, housekeepers, and outdoor instructor. Regular guest requests include catered picnics on the island, according to Winnick, along with elaborate formal dinners and pancake breakfasts. The food, which is included in the rental price, comes from local farms and producers; this version of camping does not include dehydrated milk and gorp.

The only hard part about Lake Kora, it seems, is getting there. Unless you have a sea plane, a helicopter, or this century's version of a flying car, your best bet is probably to jet to Albany and make the 2.5-hour drive to the property. The nearest town (Old Forge, N.Y., population 756) is 25 miles away. 
The camp's four-night minimum cost brings visitors' bare-bones total to $59,800. While this sounds (and is) expensive for four days' vacation, break it out among 14 people; the total price of $4,270 a head brings it down to sub-Vanderbilt prices.





(
Updates pricing in second and final paragraphs.
)
Before it's here, it's on the Bloomberg Terminal.
LEARN MORE