Japanese Shoppers Keep Wallets Shut Despite Sales-Tax Delay
By
Prime Minister Abe holds start of 10% sales tax for 2.5 years

Japan's largest retailer Seven & i sees delay easing concerns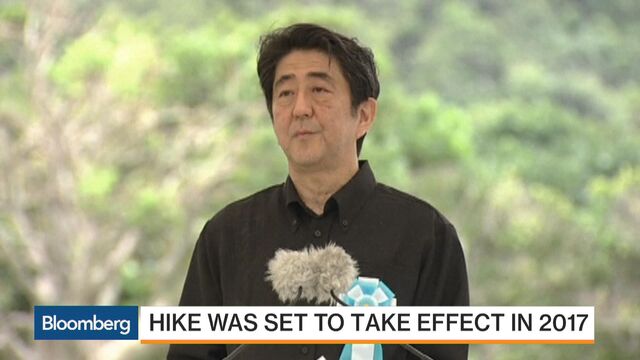 Delaying a sales-tax increase in Japan won't lift the spirits of shoppers like Junko Nakamura, for whom discretionary spending is a distant memory.
Japan's economic woes mean it's only Chinese tourists who are splurging in the upscale department stores of Tokyo's fashionable Ginza district, Nakamura said while shopping with her 79-year-old mother, Sachiko. Delaying the sales tax increase to avoid a slump in consumer spending won't change her buying pattern, she said, adding that she's put away large supplies of toilet paper, shampoo and other daily necessities.
"I haven't spent much, and it won't change even after the tax-hike delay because it's just a temporary measure while this nation's future remains uncertain," said Nakamura, 54, after buying bread from a department store in Ginza yesterday. "I want the government to promise that they'll surely use our taxes to improve social security."
Prime Minister Shinzo Abe said Wednesday he's postponing an increase in sales tax to October 2019 and promised bold economic steps, as the government seeks to avoid depressing private consumption which accounts for about 60 percent of Japan's gross domestic product. It's an about-face for the Japanese leader who has repeatedly said he would raise the tax to 10 percent in April 2017 from 8 percent, in a bid to contain the world's largest debt burden.
For a story on how economists view Abe's tax delay decision, click here.
Japan's largest retailer Seven & i Holdings Co. welcomed Abe's decision, which it sees as helping ease consumers' concerns, and urged further policies to boost consumption, according to its president Ryuichi Isaka in a statement. The move may have a positive impact on the psychology of consumers, and the government should keep pushing for financial reform and growth, beermaker Asahi Group Holdings president Akiyoshi Koji said in an e-mail.
Shares of Fast Retailing Co., owner of the Uniqlo clothing chain, fell 3.1 percent by the close of Tokyo trading, extending losses after the delay was announced. Asahi dropped 2.4 percent, while Seven & i and Aeon Co. both fell 1 percent, amid a broader slump in Japanese stocks as the yen soared on Abe's decision.

The Topix Index of Japanese retailers, which includes shares of Seven & i, Fast Retailing, and Aeon, has fallen 10.2 percent so far this year through Wednesday amid weakness in private consumption. Japan retail sales fell 0.8 percent from a year earlier in April, a government report showed Monday.
The delay will ease pressure both on Japanese consumers and consumer-goods suppliers, at least in the short run, according to Hideo Kumano, chief economist at Dai-Ichi Life Research Institute in Tokyo. Still, it's unlikely to alter the course of spending, which has been weakening "little by little," he said.
For a story on how Japanese reacted to sales tax hike in 2014, click here.
"You can't find any factors that can spur consumption," Kumano said over the telephone. "You've got the falling population and you can't expect salary increases. The environment will remain severe."
A previous increase in the tax to 8 percent in 2014 pushed Japan into a recession, prompting the government to delay the next phase of the hike that had been scheduled for October 2015. Almost two thirds of respondents to a poll published by the Nikkei newspaper on Monday said they opposed the consumption tax increase.
Window Shopping
Daisuke Endo, 38, who runs a dental clinic in Tokyo, said he was happy with the decision not to raise the tax, especially since 10 percent sounded like a "big" impost.
"I don't think this is the right timing," Endo said, while resting with his family in a shopping mall near Tokyo station. "I can't remember any luxury things that we've bought recently. We're spending mostly on our 3-year-old daughter, as education costs a lot."
The tariff will increase "sooner or later," said Yukiko Inoue, who's in her 70s. She's been in "money-saving mode" to get by, and when the increase does come, it will inevitably hurt restaurants, which will probably keep prices steady but make portions smaller to compensate, Inoue said.
"Nothing can be better than no change on the tax rate, though I understand Abe needs to do it," said Inoue, adding that she'll continue to shop for "cheap" items and spurn luxuries. "I'll just do window-shopping at department stores and not buy clothes there, as cheap-but-mediocore-quality products are available elsewhere."
New Computer
Prospects for sales of luxury goods and big-ticket items like cars, washing machines and television sets Japan will look even bleaker once Japan introduces the higher sales tax, said Hiromi Deguchi, 40, who recently bought a new personal computer.
"I thought the tax hike was coming, but now I know there's no hurry to buy expensive stuff," she said. "I feel like I was fooled. It looks like the government is just watching how the public feels about it."
Still, it's inevitable the tax will be increased, Deguchi said, trying out an espresso machine at a home appliance shop in central Tokyo yesterday. "Once it's raised, it will cool my desire to spend on expensive stuff."